Do You Need A Passport To Go To Canada? | [Full] Guide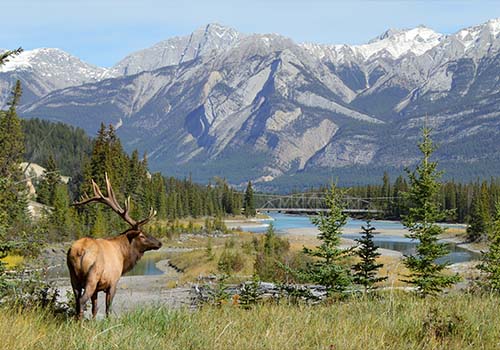 Many people choose to visit Canada for vacation to see the beautiful scenery that the country has to offer. Some U.S. citizens even live so close to the Canadian border that they frequently cross into Canada for business or pleasure. So, just what are the travel requirements when entering Canada? Will you need a passport or will a simple birth certificate or driver's license suffice? We will tell you everything that you need to know about traveling to Canada, so just keep reading!
Do U.S. Citizens Need A Passport To Enter Canada?
Yes, U.S. citizens will need a valid U.S. passport to enter Canada. The type of passport required will depend on the method by which you are visiting the country. If you travel to Canada by air, then you will need a passport book. Even if you are simply flying through Canada en route to another country, then you will still need a valid passport book to fly through the country. No visa is required if you are staying in Canada for less than 6 months since U.S. citizens are visa-exempt when visiting. If you will be staying longer than 180 days, then you will need to apply for a visa which is a much more involved process.
If you are visiting Canada from the U.S. by sea on a cruise ship, then you can use the simpler passport card instead of a full passport book. You can also use an enhanced driver's license to enter the country, but remember that only a handful of states are currently issuing those. This type of license is different from the Real ID that all states offer. Another exception is a closed-loop cruise. This means that the cruise originates and returns to an American port. In that case, you can use proof of identity like a photo ID along with proof of U.S. citizenship like a birth certificate or certificate of citizenship. No passport is required to visit Canada as part of a closed-loop cruise.
Finally, if you travel to Canada from the U.S. by land in a car or on foot, then the same basic requirements are in place as for arriving by sea. You can use a passport book, passport card, or enhanced driver's license. If you are part of the Trusted Traveler program, you can also use your Nexus card, Fast card, or Sentri card. These are part of the Western Hemisphere Travel Initiative (WHTI), and they allow for quick and easy passage through customs for trusted travelers. Even if you have one of these travel documents, you will still need to carry your passport in case it is needed.
In addition to the documents mentioned above, there are also some special requirements for COVID procedures. If you have already received a COVID vaccine, then you can qualify as a fully vaccinated traveler by submitting proof of your vaccination and a negative COVID test prior to travel. If you are a parent or legal guardian traveling with children, then they will still need to submit a negative test if they are over 5 years old.
Travel Documents Required For Canadian Border Crossing
Many people who live near the Canadian border frequently cross the border into the country. They might travel frequently between the U.S. and Canada similar to people who live close to the border between the U.S. and Mexico. So, what documents do you need for Canada border travel? As mentioned above, you will need a passport book, U.S. passport card, or enhanced driver's license. You do not need a Canadian passport, Canadian visa, or Electronic Travel Authorization (eTA) to enter the country if you are an American citizen.
Obtaining A Passport Book Or Card
So, how do you get a passport? You will need to complete a passport application and return that application to the U.S. Department of State. It can take some time to process the application, so make sure that you apply in plenty of time before you plan to travel. Ideally, you should apply for your passport 6 months in advance of any international travel. Currently, it takes about 14 weeks to process a passport application, so it might be more than 3 months before you see your passport.
Go ahead and complete the passport application and gather the required documentation. You will need documentation of both your identity and citizenship status. A valid photo identification like a driver's license or military ID card will prove your identity. A U.S. birth certificate or naturalization certificate will prove your citizenship. If you do not have these specific documents, there are other options. You should know that you need to provide original documents as photocopies are not accepted. For this reason, most people choose to apply for a passport in person at a passport office or a post office that accepts passport applications. You will also need a passport photo to include with your application.
If you have a felony conviction on your record, be aware that passports are sometimes denied for felons. Depending on the specific charge, you might be unable to get a passport. While some charges like a DUI might be allowed, your application will be denied for felony drug charges. Just because you are granted a passport, also remember that some countries will not allow people with a criminal record to visit even with a passport. Make sure that you know the rules of the country to which you are traveling before you depart from the U.S.
Special Circumstances – Dual Citizenship
Some people who live close to the border are both U.S. and Canadian citizens. So, what are the Canada entry requirements in that case? The short answer is that you will need a passport from both countries, and you will need to carry them both when you travel. You will need your Canada passport to board a flight to, or travel through, Canada by air. Since you are also a U.S. citizen, then you will need your U.S. passport to return to the United States.
Permanent residents of the United States will need both their permanent resident card and a passport to enter Canada. In the case of a permanent resident, your passport should be issued by your country of citizenship. The Canada Border Services Agency will be checking these documents, and you will be denied entry to the country without proper documentation. Similarly, U.S. Customs and Border Protection will be checking your documents when you arrive back into the U.S. Traveling without the proper documentation could have serious consequences. The Canadian government does not take these issues lightly, and you could end up facing serious legal issues.
The Bottom Line
Are you ready for your big trip to Toronto or Ontario, but you want to make sure that you have all your identification documents ready to go? Entering Canada is not difficult as long as you have the proper paperwork. As long as you are carrying your passport, you should have no problems. Go ahead and get the passport book so that you do not have to worry about which method of travel you choose. Enjoy your trip!
Frequently Asked Questions
Does a Canadian passport work in the United States?
If you are a Canadian citizen, then yes, a Canadian passport will work to enter the U.S. for short trips. However, if you are an American citizen or a dual citizen, then you will need a U.S. passport to enter the country. Having only a Canadian passport will not be enough in that case.
What do you need to cross the Canadian border?
If you are a U.S. citizen, then you will need a passport book, passport card, or enhanced driver's license to cross the border into Canada via car or foot. If you are a Canadian or dual citizen, then you will need your Canadian passport. If you have your global entry documents, those can be used as well. However, you must still have a valid passport in your possession to use those documents.
What are the requirements for traveling to Canada without a passport?
There are very few exceptions to the passport rules when traveling to Canada. The only real exception is when you visit on a closed-loop cruise. This means that you depart the U.S. on a cruise ship and visit Canada during the cruise while returning to the same U.S. port from which you departed. In that case, you can simply provide proof of identity and citizenship when you visit. So, you could present a driver's license and U.S. birth certificate. However, it is best to simply use a passport to make things easier.