[vc_row][vc_column][vc_column_text]
What Post Office Is My Package At?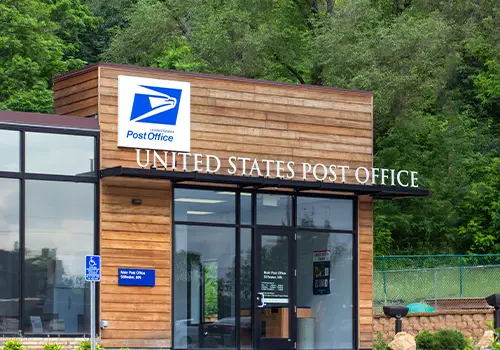 How to Locate the Nearest Post Office
Often times the correct answer is often the simplest one. Since mail carriers are typically going to be dispatched from the post office nearest to you, there's a good chance that it's where your mail is being held. Fortunately, our website specializes in post office locations, and clicking that link will automatically show you a list of the closest post offices.
Alternately, you can use the search box in the sidebar to search for post office locations by zip code, or you can browse our complete directory of Post Office locations. You can swing by any one of these locations to check for your mail, but calling is oftentimes easier.
Ask Your Mail Carrier
Another way to find out what post office has your package is simply asking your mail carrier. It saves you the hassle of calling several post offices. But if your mail carrier delivers while you're at work and you cannot wait until a Saturday, don't despair! There are plenty of other options for finding your mail.
Missed or Failed Deliveries
Some mail needs to be signed for or otherwise personally received. In the event that attempts to deliver a package to your home have failed, or in the event that your package did not fit in the mailbox and your mail carrier didn't have explicit permission to leave it by the door, then your mail may be held at a post office.

If this happens, you should have a USPS Missed Delivery receipt on your door. This receipt is typically a physical slip of paper left on the door, but may also be sent digitally as a text or email.

In the case of a missed delivery, this receipt is the best way to nail down which post office is holding your package. It will have the tracking number of your package and by entering the tracking number into our tracking tool, you'll find the exact post office location that's holding your package. Some receipts will list the name or precise location of the post office that your mail is being held at, as well. These receipts can have a lot of small text, but it can be worth it to read the whole thing!
Missing Mail Claims
If you're missing mail that is either lost or undelivered, and not sure whether it's even held at a post office, then you can file a Missing Mail claim online as well. If your mail is recovered, the USPS will either re-deliver it to you or notify you as to which post office it's located at. Note that you cannot file a missing mail claim until it's been at least 7 business days since the expected delivery date passed.
Conclusion
In the event of missing, lost, or late mail that for whatever reason may be detained at a post office or not delivered smoothly, there are lots of options for you to recover your package. In addition to communicating with your mail carrier or navigating the USPS website tabs we mentioned, you can also contact the USPS at 1-800-222-1811 for Domestic Tracking inquiries and add the USPS app on your phone, where you can ask questions online to a customer service specialist bot.[/vc_column_text][/vc_column][/vc_row]