How Late Does FedEx Deliver? | [Comprehensive Guide] Inside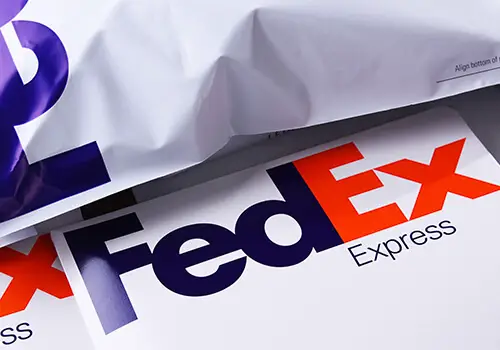 Many people find themselves waiting on delivery day for their package to arrive. However, it sometimes seems to take longer than you had hoped. Time creeps by, and the next thing you know, it is late into the afternoon. There is still no package on your doorstep. You might start wondering whether your package is still going to arrive that day or whether it will be delayed. So, just how late does FedEx deliver and can you still expect your package even if it is late into the evening? We will tell you everything you need to know about FedEx delivery hours and their typical cutoff time. Keep reading to learn more.
How Late Does FedEx Deliver Packages?
According to the FedEx delivery guide, they deliver packages from 8:00 AM to 8:00 PM Monday through Friday, and FedEx Home Delivery will deliver packages during this window on Saturday and Sunday to residential addresses as well. So, if you are expecting your FedEx package today and it is not yet 8:00 PM, then it is likely that it will still arrive on time. If you notice that your tracking status says "Out for Delivery" or "On FedEx vehicle for delivery," then your package should arrive by 8:00 PM local time. However, you should know that 8:00 PM is not always a firm cutoff time.
It is possible that FedEx might deliver a little earlier than 8:00 AM or a little later than 8:00 PM in some cases. This is especially true during the busy holiday season. FedEx drivers have been known to deliver packages into the night to keep deliveries on schedule during the holidays. You might have your package delivered as late as 9:00 PM or after, but you can generally expect that no packages will arrive past 10:00 PM. As long as your tracking status still shows "out for delivery," then there is still hope that the package will arrive that day. However, once you see a delivery exception message, then you know that your package has been delayed.
Expected Delivery Times With FedEx
Now that you know the expected delivery hours on the day your package should arrive, how long will it take to get from the origin to the destination? That depends on a few factors. First, the distance between the origin and destination plays a huge role in the transit time. The longer the distance the package must travel, the longer it will take to get there. Unless, of course, you are using a guaranteed service like FedEx Priority Overnight. This ensures that you will receive next day delivery regardless of how far the package must travel.
However, for standard FedEx Ground service, you can expect that your package will arrive at its destination in anywhere from 1 to 5 days within the contiguous U.S. If you are shipping to Alaska or Hawaii, then you need to add a couple of days to the travel time. Packages sent to those states should have a delivery date within 2 to 7 days. FedEx offers many different delivery options if you need faster service; however, those premium options do come at an additional cost.
FedEx Package Delivery Options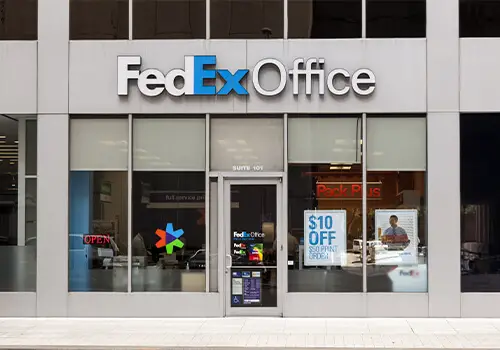 We mentioned that FedEx offers many different options to meet your needs when it comes to delivering your package. Here are some of the most common services that they offer along with a short description of each service.
— FedEx Same-Day
Just as the name implies, you can use this service to have FedEx deliver your package on the same day that it is sent. Of course, there are a few limitations. You must purchase the service and ship your package pretty early in the day. Also, there is a limit to how far the package can travel. For instance, if you want to send a package from New York to Oregon with same day delivery, that is not likely to happen. But, this can be a great service to use when you need to get a package delivered quickly.
— FedEx Same-Day City
This service is similar to Same Day service, although it is limited to areas within the same city. The pros are that you can typically still get this service a little later in the day, and your package will generally arrive within just a couple of hours. It is almost like a courier service, and you can schedule a pickup in some cases and have your package delivered where it needs to go. This is a great option when your delivery address is close by.
— FedEx Standard Overnight
If you need your package to arrive the next business day, then this is the service for you. If you are shipping to a residential address, you can usually even add Saturday delivery or Sunday delivery in most cases. There is no guaranteed delivery window with this service, but it is guaranteed to arrive the next day. Be aware that this service can be quite costly, but it will get your package where it needs to go.
— FedEx Priority Overnight
This service takes the standard overnight service to the next level. Not only will your package arrive the next day, but FedEx also guarantees that it will arrive before a certain time. In most cases, it should arrive before noon the next day. However, if your package is headed to a rural or remote area, that delivery time might be extended to 5:00PM local time.
— FedEx First Overnight
If you want the ultimate in next day delivery service, then First Overnight is the shipping service you should select. Your package will be in transit during the night, and it will be first in line for delivery the next morning. FedEx offers a money-back guarantee that your package will arrive by a certain time the next day. In most cases, it should arrive by 9:30 AM local time. Just be aware that the shipping rates with this service are quite high. However, if your package is late, then you are usually entitled to at least some of your money back.
— FedEx 2-Day
This is a second day service that is similar to the two-day options offered by USPS, DHL, and UPS. This means that your package will arrive two days after shipping. Note that there is no guaranteed delivery window, and your package will probably arrive at the usual FedEx delivery time for your location. So, if the FedEx truck usually runs about 7:00 PM in your area, then this is likely when the package will be delivered. FedEx Freight also offers a 2Day service for larger shipments, although Saturday delivery will incur an additional charge.
— FedEx 2-Day AM
2Day AM is another second day service with a few more premium features. This service is slightly more expensive than standard 2Day service, but it also offers a guaranteed delivery in the morning of the second day. In most cases, the shipper can expect that the package will be delivered by 10:30 AM local time with this service. If shipping to a residential address, delivery will occur by noon local time. This service, along with most of the other premium services, is not available to P.O. boxes. You must include a physical address on the shipping label to qualify for these guaranteed services.
— FedEx Express Saver
This is the most cost effective shipping method that still includes a guaranteed delivery time. This is a 3 day service that guarantees delivery by 4:30 PM to businesses and 8:00 PM to residential addresses. You can drop off your package at your local FedEx office or schedule a pickup. Note that this service is not available for shipments to Alaska or Hawaii.
FedEx Home Delivery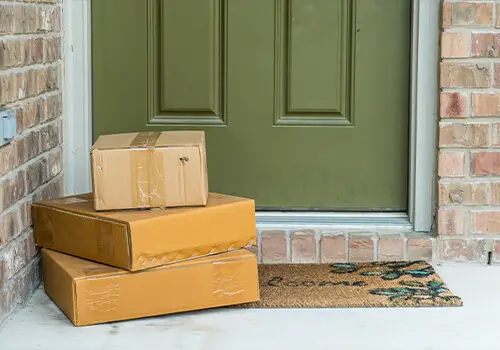 In most cases, delivery to residential addresses occurs a little later in the day than delivery to business addresses. FedEx Ground delivers to businesses while FedEx Home Delivery services residential customers. Residential customers have a few options available for scheduling their deliveries. In some cases, the recipient might need to be home to sign for a package. Or, they might simply want to be there so that the package does not sit on the front porch all day. Either way, here are a couple of options available to you.
— FedEx Evening Home Delivery
When the shipper sends the package, they can specify that they would like evening delivery of the package. This ensures that the package arrives between 5:00 PM and 8:00 PM on the delivery day. The recipient can also make this request if they sign up for FedEx Delivery Manager. This can be a great option for ecommerce deliveries. It can help make sure that you are home when the package arrives so that your package can be safely brought inside upon delivery.
— FedEx Appointment Home Delivery
This takes evening delivery to the next level. With this service, FedEx will call the recipient to schedule a time for delivery. The time will be within a two hour window, so this helps customers who may have irregular schedules. They can specify the delivery window time to ensure that they are there when the FedEx truck arrives. Again, the shipper can make this request or the recipient can use their FedEx account within the Delivery Manager to set up a delivery appointment.
FedEx Tracking Information
Tracking your delivery with FedEx is quite easy. Once the FedEx shipping label is attached, your package will be assigned a FedEx tracking number. You will simply need to visit FedEx.com and input your tracking number to see what is happening with your package. If you do not have access to the Internet, you can also call customer service or visit a local FedEx location and provide your tracking number. You might see many different status messages like in transit, arrived at sorting facility, on vehicle for delivery, or others. You should know that this tracking is not in real-time, but it is updated each time your package is scanned as it moves through the FedEx infrastructure.
What To Know About Saturday Delivery
Saturday delivery is included with FedEx Home Delivery service at no additional charge. Most premium services even include Saturday delivery as well. If you need Saturday delivery to a business, then you will generally have to pay a little extra. In addition to Saturdays, FedEx even delivers on Sundays to most residential addresses like the post office does for Amazon packages. You should know that getting on the delivery schedule for Sunday will cost you though as that is considered a premium option.
The Bottom Line
FedEx will work past normal business hours to ensure that your package makes it to its destination on time. While the normal end of day cutoff is 8:00 PM local time, the delivery drivers will often work later than this to get your package delivered. This is especially true during busy times and the holiday season. If you need guaranteed delivery before a certain time, then FedEx likely has a service that will meet your needs. They have many delivery options to choose from, and one of those services is sure to work for you.
Frequently Asked Questions
Does FedEx deliver after 8pm?
Officially, delivery ends for the day at 8:00 PM. However, FedEx is known to deliver later than this in many cases. If your package is showing as out for delivery and it is past 8:00 PM, do not worry just yet. It very well might still arrive that day. However, FedEx will usually never deliver past 10:00 PM.
What if FedEx does not deliver on time?
For standard ground service, a delivery exception is just an unfortunate delay. There is no guarantee on this service, so your package will just arrive a little late. However, if you have purchased a premium, guaranteed service, then you will be entitled to at least a partial refund of your shipping costs. You should contact FedEx customer service to discuss your options for a late delivery.
What if I am not home when FedEx delivers?
In most cases, FedEx will simply leave the package at your doorstep. However, if a signature is required, then they will leave a notice letting you know that delivery was attempted. In this case, you can call them to reschedule the delivery for a time when you will be home. Another option is to head down to the local FedEx facility and pick up the package. If you fail to do either, they will usually attempt delivery again a couple of more times. If you are still not home and cannot be contacted, they will hold the package for a few days and then return it to the sender.
Where can I get the exact time of my package's delivery?
Many people wonder, "What time does FedEx deliver?" If your package has already been delivered, then the exact delivery time will appear on the tracking status. However, if it has not been delivered yet, then FedEx cannot give an exact delivery time. If you have scheduled a delivery appointment, then you will be given a two hour delivery window. Delivery will occur some time within that window, but an exact time is not guaranteed.
What time is end of day for FedEx Ground?
So, what time does FedEx stop delivering? FedEx end of day for ground service is 8:00 PM local time. Most business deliveries will occur before 5:30 PM, and most residential deliveries occur before 8:00 PM. However, in some cases, FedEx might still deliver a little past these cutoff times. This is especially common during the holidays and other busy times.