How Long Does Priority Mail Take? | [Full Guide] Inside + Tips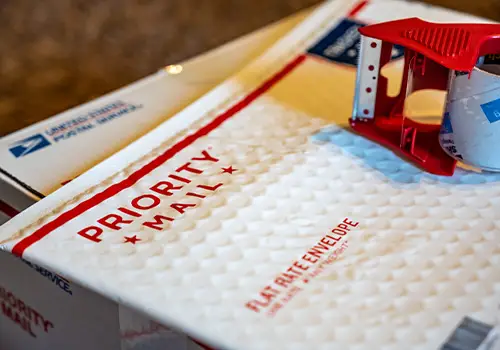 If you have shipped anything using the USPS lately, then you have no doubt encountered USPS Priority Mail service. People are always looking for faster and cheaper shipping options, so how does Priority Mail fit into the mix? It is one of the most common ways to ship a package through the post office, but just how quick and cheap is it? We will tell you everything that you need to know about Priority Mail including how long it takes and how much it costs. Keep reading to learn all the details about Priority Mail from the United States Postal Service.
What Is USPS Priority Mail?
Many people wonder, "What is Priority Mail?" USPS Priority Mail is one of the fastest shipping options available from the US Postal Service. It offers several advantages over regular first-class mail, and it is also very cost effective. Many people like to compare first class vs Priority Mail and end up choosing Priority service. First, this is a domestic service that is not available for international mail. It is only available domestically for shipping within the United States or for delivery from the United States to U.S. territories or military bases and APOs. If you need to send a package to another country, then you will need to use Priority Mail International.
Postage may be calculated based on the size and weight of the package or by using one of the flat rate shipping options. The flat rate boxes and flat rate envelopes are quite popular because the rate is the same regardless of how much you place into the envelope or box. As long as it fits inside the box, then the pricing will be the same regardless of weight.
Like UPS SurePost, Priority Mail always includes Saturday delivery at no extra charge. In addition, the packages can be dropped off at the post office or picked up by your mail carrier. This makes shipping with Priority Mail extremely easy. You can print your own shipping label and simply have your mail carrier pick up the package from your residence. Then you never even have to leave your home to ship your package. Talk about convenience!
Priority Mail Delivery Times
So, how long does USPS Priority Mail take? Delivery times for Priority Mail are typically in the 1-3 business day range. It is sometimes called USPS Priority 3 Day for this reason. Your specific Priority Mail shipping time will depend on just how far the package needs to travel. The farther the destination is from where you are shipping, the longer the delivery will usually take. The USPS website has a delivery map that will give you a great estimate of how long you can expect the delivery to take based on the origin and destination zip codes.
Priority Mail packages are usually given preference as they move through the USPS infrastructure. Since this is one of the fastest shipping services offered by the post office, these packages are usually given preference as trucks or planes are loaded and unloaded. You should know, however, that a delivery date is not guaranteed with this service. While packages using this service are usually delivered within 1 to 3 days, there could be instances where shipping takes longer. You will not receive any refunds if your package takes longer than 3 days to arrive.
Priority Mail Features
Priority Mail includes many great features at no additional cost. If you have any questions about specific features, you can always ask at your local post office. Here are just a few of the extra services that come with Priority Mail.
— Tracking
Priority Mail includes USPS tracking at no additional cost. This allows you to get regular updates to determine where your package is located along the route. You will usually see updates as your package moves from one sorting facility to the next. You can use the tracking number to see where the package is moving and usually get an expected delivery date. The barcode on the package will be scanned as it travels, and this is how the updates are provided.
— Insurance
Insurance for your package is also included at no extra cost. Your package will be covered up to $50 or $100 depending on the payment method that you used. If your package is damaged during transit, then you can file an insurance claim with the USPS to recover the value of the package. If your package is worth more than $100, then you will need to inform the postal service so that you can purchase additional insurance to cover the extra amount.
— Flat Rate Options
The flat rate options available with Priority Mail service are extremely popular, especially with e-commerce businesses. These options allow you to place items into the Priority Mail flat rate package, and the shipping cost will be the same regardless of the weight of the package. You can even obtain these boxes or envelopes from USPS.com so that you can keep some in your home. When it comes time to ship your package, you can simply print your shipping label and either drop off the package or have it picked up. Package pickup is also included with Priority Mail service at no extra cost, so you never have to worry about how you will get your package to the post office.
Priority Mail Express Service
If you need even faster service, then Priority Mail Express might be the way to go. This is a guaranteed service that delivers either the next day or within 2 days. It delivers to most U.S. addresses and P.O. Boxes. Priority Mail Express service also includes flat rate options, and it is usually cheaper than UPS or FedEx delivery. While it does not offer same day delivery, it is an express service that offers a money back guarantee if your item fails to arrive on time. This service also includes tracking and insurance as well as proof of delivery. Simply request a delivery signature when shipping your package, and this will be provided at no extra cost. Priority Mail Express service starts at $26.35, and the price increases from there based on the weight and size of your item.
The Bottom Line
Priority Mail is a great shipping option for small businesses and individual customers alike. It is cost effective and reliable, and Saturday delivery is included with the service. So how fast is USPS Priority Mail? In most cases, your package will be delivered in 1 to 3 business days, although it is not a guaranteed service. If you need a guaranteed delivery time, then you should consider Priority Mail Express. While it is more expensive, your delivery will be guaranteed within 1 to 2 days. If your package fails to arrive on time, then you can receive a refund of your shipping cost. Priority Mail flat rate shipping options are a very popular feature of this service, and they allow you to ship anything that will fit into the flat rate box for the same price.
Frequently Asked Questions
Is Priority Mail guaranteed to arrive within 3 days?
Many people ask, "Is Priority Mail guaranteed?" No, Priority Mail does not have a guaranteed delivery timeframe. While most Priority Mail packages will arrive within 3 days, there is no guarantee that yours will. So how long does it take to get Priority Mail? It really depends on how far your package must travel. If you are shipping across the country or to a U.S. territory, it is possible that the service might take longer than 3 days. No refunds will be provided for items that take longer than 3 days to deliver.
Can Priority Mail take a week?
While it is rare, it is possible that Priority Mail could take a week. This would most often be the case when shipping a very long distance. Perhaps you are shipping to a military site or APO. When your package must travel a very long distance, the odds increase that the service will take longer than the standard 1 to 3 days that is customarily provided by Priority Mail.
What happens if my Priority Mail package is late?
There is not much you can do if your Priority Mail package is late. Since the service is not guaranteed, then you simply can check the tracking to determine when your package should be delivered. If, however, you paid for Priority Mail Express service, then you can get a refund of your shipping charges if your package is late.
What happens if my Priority Mail package is damaged?
If your package is damaged, then you can file an insurance claim with the postal service. Priority Mail packages automatically include up to $100 worth of insurance. If you need additional insurance, then make sure that you inform the post office when you ship your package. Otherwise, you will be limited to this amount in the event of damage to your item during shipping.