How To Mail A Letter | [5 Simple Steps Inside]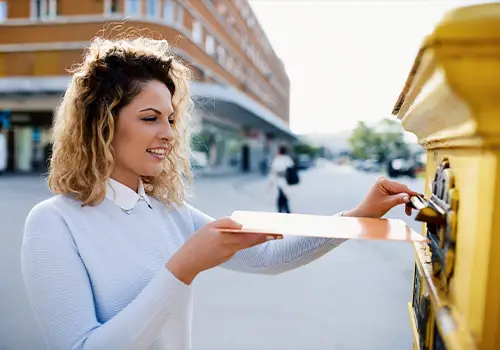 While most people today utilize email and other electronic means of communication, there is still something to be said for receiving a physical letter in the mail. Unfortunately, some people today do not even know how to properly address and mail a letter at the post office. Mailing a letter is not difficult at all, and it takes just a few quick steps. Here is everything you need to know about mailing a letter through the USPS.
How To Mail A Letter
Suppose you write a letter to a friend, now what? You need to have that letter delivered through the mail to your friend's house. So, do you know how to send a letter through the mail? Sending a letter is quite simple if you just follow these five easy steps.
— Choose A Proper Envelope
This might seem elementary, but mailing a letter starts with choosing a proper envelope. The postal service charges postage based on size and weight, so if you select an envelope that is too large for your letter, it could end up costing you extra money. If your letter is written or typed on regular sized paper, then you should select a regular sized envelope like a #10 envelope. These envelopes are 4 1/8″ by 9 1/2″ and will perfectly hold a letter of a few pages that has been folded correctly. If your letter cannot be folded or it is extremely thick due to a high volume of pages, then you may need to select a larger envelope.
— Insert Your Letter & Seal The Envelope
Once you have properly addressed your letter, you should fold and place your letter into the envelope that you have selected. Once everything is safely inside, you will need to seal the envelope. Most regular sized and large envelopes include a seal strip along the edge of the envelope. You can simply moisten this strip and press it down onto the back of the envelope to seal it. If you prefer to place a small piece of tape on there as well, that is perfectly fine. Just do not place any tape near the stamps as this will void the stamp and will cause your mail piece to be returned.
— Write The Destination And Return Address
Addressing an envelope is not difficult, but you want to make sure you get the addresses in the correct spot! You should first write your return address in the top left corner of the envelope. Include your full name, full street address, city, state, and ZIP. In the event that your mail is undeliverable or the recipient decides to return it to the sender, the post office will return the mail to this address.
Next, you should plainly and clearly write the recipient address on the envelope. It should be written in approximately the center of the envelope. Make sure that you include the recipient's full name, street number, street name, suite number (if applicable), city, state, and ZIP. If sending to a business, write the company name on the first line of this address block. If sending your letter internationally or to an FPO or APO, this information should be included here as well. The post office has full guidelines for how to properly write addresses. For international mail, make sure that you follow the guidelines exactly. Be sure to use capital letters where appropriate, and common abbreviations are fine.
— Calculate And Attach Postage
Once you have the envelope addressed, you will need to determine how much postage will be required to mail your letter. Affixing the right postage is critical as the USPS will not deliver your letter without it. For a regular first class letter weighing less than 1 oz, a single forever stamp will work. As of 2021, this amounts to $0.55 of postage. The pricing for each additional ounce of weight is an extra $0.20. You can purchase postage stamps through USPS.com, stamps.com, or from a postal worker at your local post office.
— Drop Your Letter In The Mail
You have your letter written and envelope addressed, so now it is time to mail it! You can drop it into one of the blue collection boxes at the post office or other locations throughout town. Or you can place the letter into your mailbox and raise the little red flag. This will signal your mail carrier that you have an outbound letter. Finally, you can simply hand the letter to the mail clerk at your post office and it will be on its way to its destination.
USPS Shipping Methods For Letters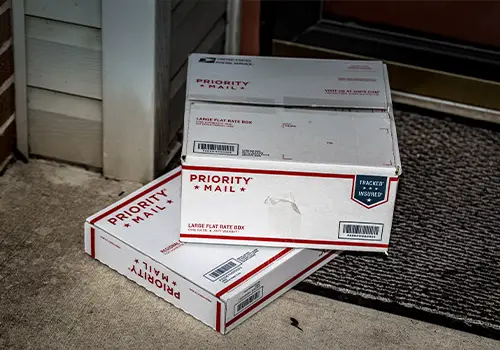 There are many methods which the USPS uses to deliver letters. The easiest and cheapest is standard first-class mail. If you are looking to save money, then this is the way to go. Remember that this mail service does not include a delivery timeframe or tracking though. If you need those extras, then you should choose another type of service. You might choose certified mail, priority mail, priority mail express, or flat rate mailing. These methods will typically have your letter delivered within just a couple of business days, and some of those methods even provide proof of delivery.
The Bottom Line
Mailing a letter is easy and hassle free if you know the proper method. Simply write your letter, place it into the right envelope, address the envelope and attach postage, and drop it in the mail! The USPS will take care of the rest and deliver that letter to the recipient within a few days.
Frequently Asked Questions
How much does it cost to mail a letter?
A regular first-class letter weighing less than 1 ounce costs $0.55 to mail in 2021. Each additional ounce will cost an extra $0.20. Once the weight surpasses 3.5 ounces, then you will have to pay for package or flat shipping. This will cost you at least a few dollars depending on the type of delivery needed.
How do I mail a letter internationally?
Mailing a letter internationally is the same process as sending one domestically. The only difference is that you will need to properly include the country name in the address. You will also need to attach additional postage as international mail costs more.
How do I send a letter without going to the post office?
You might be wondering how to mail an envelope without visiting the post office. There are a couple of ways that you can do this. First, you can simply attach your postage and drop the letter in your mailbox at home. Raise the little red flag on the side, and your mail carrier will pick up the letter. Next, you can drop the letter into a USPS blue collection box.
Can I send a letter to a PO Box?
Yes! Letters can be delivered to regular street addresses as well as PO Boxes. You can even send a letter internationally if needed.