"On FedEx Vehicle For Delivery" Status | What Does It Mean?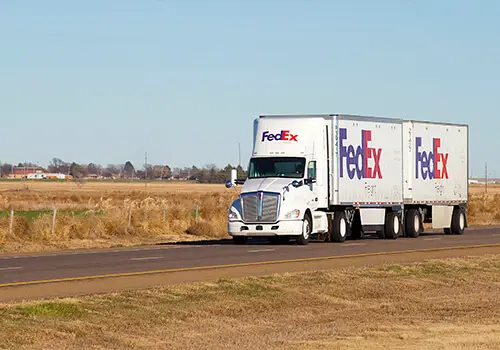 We have all seen this status before when we are intently tracking a package and waiting for its arrival. This message usually triggers happiness because we know that the package is likely to be arriving very soon. But, does the "out for delivery" message always mean that your package is arriving that day? What happens if the package does not show up that day? We will explain exactly what the "On FedEx vehicle for delivery" status message means, and how you can get the most out of your FedEx tracking information. Keep reading to learn all the details.
FedEx Package Tracking Basics
Many people ask, "How do I track my FedEx package?" Package tracking capabilities have increased greatly within the last few years. This even applies to all carriers like USPS and UPS in addition to FedEx. You now have the ability to track your package as it moves through the FedEx infrastructure and receive up to date delivery estimates. Here is how it works. When you visit your local FedEx office to ship a package, that package is assigned a tracking number. This number is used to track your package on its journey from origin to destination.
Each time the package moves to a new location, the barcode containing that tracking number is scanned. This updates the FedEx system with new information about your package. For instance, when it arrives at a sorting facility, it is scanned. When it leaves that facility, it is scanned again. If you want to see the status of your package, you simply need to visit FedEx.com and enter your tracking number. This will pull up all the details about your package including the scan history and an estimated delivery date. If you do not have access to the Internet, there are other ways to track your package. You can call FedEx customer service or you can visit your local office. If you have signed up for FedEx Delivery Manager, you can even track packages headed your way without the tracking number. Simply log into your Delivery Manager account to see the packages that are coming to you, and you can manage your deliveries easily from there.
What Does "On FedEx Vehicle For Delivery" Mean?
Other than the "Delivered" status, this is probably the next best thing! This tracking status means that your package has passed through the final sorting facility and is on the FedEx truck headed to your location. In most cases, this means that your package will arrive that same day. The packages are usually loaded onto the delivery trucks first thing in the morning, so you might see this status early in the day. However, it might be several hours before the package arrives at your home.
FedEx Ground and FedEx Home Delivery often make deliveries late into the evening. So, just how late does FedEx deliver? Officially, FedEx will deliver until 8:00 PM local time. However, they often deliver even later than that during their busy periods. Just because it is getting late does not mean that your package will not be delivered that day. As long as the delivery status still shows "On FedEx vehicle for delivery," then your package should still be coming that day. However, if you notice that a delivery exception has been added to the status, then it has been delayed until at least the next day.
Other FedEx Tracking Status Messages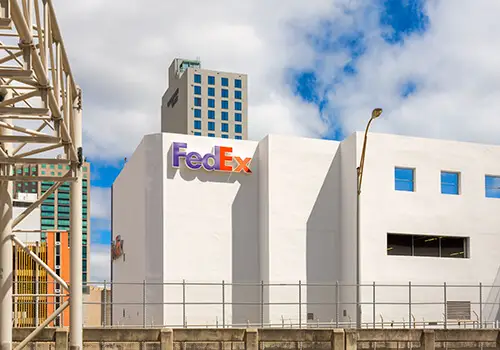 We have already discussed the out for delivery meaning when you see that on your tracking status. However, there are many other messages that you might see when you search for your tracking number as well. We will discuss some of the more common ones here and give you details about what each of them means.
— Arrived At FedEx Location
You will typically see this message early in the shipping process. This means that your package has made its way to the first step in the process. Perhaps you dropped off the package at the local FedEx office and it was scanned in there. Or maybe you scheduled a pickup and the item has made it to the first FedEx facility. Either way, this message means that your package has entered the FedEx infrastructure and has begun its journey to the destination.
— In Transit
The "In Transit" status message means that your package is traveling between FedEx locations. It could be traveling via truck or airplane, but it is between sorting facilities. You will typically see an arrival scan and departure scan when it arrives and leaves a facility. So, when you see In Transit, this means that the package is between locations on its way to the next stop.
— Arrived At Sort Facility
When your package arrives at the next sorting facility along the route, you should see an arrival scan. In most cases, a package will not remain in this status for more than a day or so. If you see an even more specific message stating that your package has arrived at the destination sort facility, this is good news! It means that it has arrived at your local facility and should be arriving soon. When the package departs these facilities, you will usually see a departure scan as well.
— Delivery Exception
This message is not good news. It means that your package is going to be delayed. It could be due to a number of factors like inclement weather, equipment issues, or even interference with delivery by animals. This message could occur at any point during the process if an issue is encountered. If you see this message, keep checking back regularly to get an updated delivery date once the exception has been cleared.
— Delivered
This is the message that everyone loves! It means that your package has arrived. You will see the exact time that the package was delivered, and you might even see a note with more details on where the package was left. It might say something like "left at garage door" or something similar. If you see the delivered message but cannot find your package, then you should call FedEx customer support to get additional information.
Tracking Your "Out For Delivery" Package In Real-Time
Many people wonder if they can track the FedEx truck in real time. While the technology has gotten much better in recent years, the ability to track your package in real time is still not quite there. It certainly would be nice to search for your tracking number and have the site open a map with the exact coordinates of your package. However, this capability is not widely available quite yet. Amazon offers the ability to track the truck on which your package is located once it is out for delivery in some cases, but you still are unable to get a detailed delivery time estimate.
You are able to get updates from FedEx in nearly real time. For example, when your package is scanned at a facility or on a truck, the tracking details are updated with that information almost immediately. However, when the package is in between facilities, you are unable to tell exactly where the package is located as it travels. The next best thing might be signing up for FedEx Delivery Manager, though. By creating an account there, you gain access to many great features that will be discussed in the next section.
Benefits Of FedEx Delivery Manager
By creating a My FedEx account with Delivery Manager, you gain many great benefits. Not only can you obtain detailed tracking information, but you also have access to many other great features. Another great benefit of this shipping service is the ability to change or update your delivery preferences on the fly. This means that you can schedule or reschedule a delivery, even after your package is on the truck on the way to your house!
Suppose that you need to be home when your package arrives. Maybe the shipper forgot to mention this when they printed the shipping label and dropped the package at their local FedEx facility. In this case, you could simply log into your FedEx Delivery Manager account and schedule a time for the delivery to take place. You could even do this the day of delivery and reschedule to the next business day if needed. This is a great benefit that is not offered by many other shipping companies like USPS and others. If you do quite a bit of online shopping or have packages delivered regularly, then you should definitely consider signing up for a Delivery Manager account. It is free to set up and includes many free features. In addition, there are also paid premium features that give you even more flexibility when it comes to managing your deliveries.
How To Handle Delivery Issues
Anyone who has packages delivered frequently is bound to encounter the dreaded delivery exception occasionally. So, what do you do to fix this problem? In most cases, you will not need to do anything. FedEx will generally attempt to redeliver the package again the next day. Perhaps you need to be at home to sign for the package. In that case, you should call FedEx to set up an appointment time. This will ensure that you are home for the delivery. Another option is to visit the local FedEx facility and simply pick up your package.
What about times when your package has been delivered, but you cannot find it? There are a few things you can do in this case. First, pull up the tracking details to see if there are any notes about where the package was left. Perhaps the driver left the package at the back door and you are looking for it on the front porch. This will also give you an exact time of when the package was delivered. If you still cannot find the package, then you will need to call FedEx customer service. Give them your tracking number and explain the situation. They should be able to contact the FedEx driver and get additional details. If your package is still lost, then you might have to end up filing an insurance claim with FedEx to recover the loss.
The Bottom Line
It is natural to get excited when you check your shipment and see the "On FedEx vehicle for delivery" status. This means that your package should arrive that day, although it might be several hours before it shows up. In fact, it could arrive as late as 8:00 PM or maybe even a little after. If you need to make changes to your delivery, then a Delivery Manager account will allow you access to do that. If you encounter issues or have delivery problems, then you will need to contact customer support for that.
Frequently Asked Questions
How long does it take for FedEx to deliver when out for delivery?
It depends on the specific route that the delivery driver must take. You could be at the beginning of the route or near the end of the route. Your package might arrive at any time during the day from 8:00 AM to 8:00 PM. So, just because it is getting late into the afternoon does not mean that your package is not going to arrive. Sometimes it can take 8 hours or more after you see the "out for delivery" message on the tracking page.
Does FedEx let you track the truck?
No, FedEx does not offer the ability to track the delivery truck with GPS coordinates like some Amazon shipments. You will only receive tracking updates when scans of the package occur. So, once you see that your package is "out for delivery," then the next update that you should receive is once your package has been delivered.
How long does it take for FedEx to deliver to a residential address?
It depends on how far your package must travel. FedEx Home Delivery usually takes anywhere from 1 to 5 days depending on the distance. For shipments to Alaska or Hawaii, those can take 2 to 7 days. If you need faster service, then you will need to pay for a premium option like FedEx Express or FedEx Overnight service. These options offer a guaranteed delivery date, but they also come at a premium price.
Does FedEx deliver packages on weekends?
Yes, FedEx delivers residential packages on both Saturday and Sunday. They will also deliver to businesses on Saturday for an additional charge. Saturday delivery for residential customers is included at no extra cost. If you need your package delivered quickly on a weekend, then you will have to pay an extra fee to add Sunday delivery for premium services like FedEx Overnight or 2Day.
What happens if FedEx can't deliver because of bad weather?
If bad weather prevents delivery, then you will likely see a delivery exception on your tracking status. When this happens, then FedEx will simply attempt delivery again the next day. This is especially common in snowstorms during the winter or dangerous storms in the spring and summer. If it is a catastrophic event like a hurricane or tornado, then redelivery might not be possible. In this case, you should probably go ahead and call customer service to determine the best way to pick up your package.