Do You Need A Passport To Go To Cancun? | [Full] Guide + Tips Inside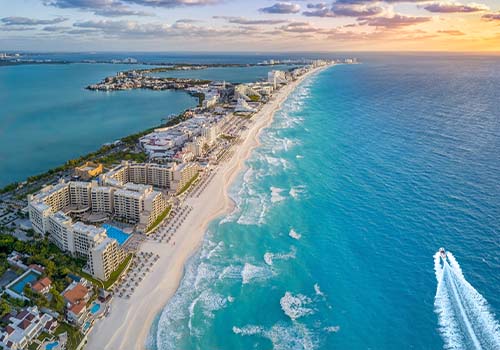 People visit Cancun for the warm weather and beautiful beaches. For many, Cancun is a dream vacation. However, can you imagine planning your dream vacation only to have it ruined because you didn't have the proper travel documents? You might be wondering whether you need a passport to go to Cancun. We are going to tell you everything that you need to know about visiting Cancun, Mexico including how the Mexico passport requirements differ based on how you arrive. Keep reading so that you will be fully prepared to plan that dream vacation.
Passport Requirements For Cancun, Mexico
So, do you need a passport to go to Mexico? Yes! The type of passport and other documents required vary based on whether you arrive in Cancun via air, land, or sea. Regardless of your method of entry, all foreign citizens visiting Mexico will require a tourist card. The immigration form for this card must be completed prior to arrival. The form can be obtained from your airline or at your port of entry. If staying less than 180 days, then no tourist visa will be required. So, just what are those requirements? Here they are.
— Traveling By Air
One of the most popular travel options for visitors is to fly into the Cancun airport. Many U.S. citizens fly into Cancun and head straight to an all-inclusive resort. If you fly into Cancun, then you will need a valid passport. In fact, you will need a passport book. Passport cards do not work for international travel by air. You will also need a blank page in your passport book, and it is a good idea to make sure that it is valid for at least 6 months from your travel date. If you are a U.S. citizen on active duty, you can fly into Cancun with your military ID and travel orders. In addition, permanent residents can fly in with their permanent resident card and additional documentation.
— Traveling By Sea
Another popular way to visit Cancun is via sea on a cruise ship. Visitors will often depart the ship and visit Cancun for the day to enjoy the many activities that are there. If you visit this way, you can use the simpler and smaller passport card. This card is valid when visiting several countries by sea or land such as Mexico, Canada, and many countries in the Caribbean like Jamaica, Bermuda, and the Bahamas. You can also use documents from the Trusted Traveler Program such as a Nexus card. While this might be uncommon, if you are driving your own boat to Cancun, then you will need a Mexican boating permit from the Mexican embassy or Mexican consulate before your arrival.
— Traveling By Land
Few people travel all the way from the United States to Cancun by land since it would be a very long drive. Cancun is not close to the U.S. border like Tijuana or some other towns. In fact, it is 1,000 miles from Mexico City! However, if you plan to do this, you can use either a passport book or a passport card. Driving that far into Mexico will require some additional documents as well though. If you drive more than about 15 miles into Mexico, then you will need an entry permit called a Forma Migratoria Multiple (FMM). The permit was previously called an FMT. You will be required to present this documentation at immigration checkpoints as you drive through Mexico.
Travel Documents Required For Children
Many families travel to Cancun for a family vacation, so what are the entry requirements when traveling with a minor? Basically, the requirements are the same. Your child will need a valid U.S. passport to enter Cancun. It is a good idea to go ahead and get your child a passport book so that they will be covered regardless of the type of travel.
In addition to a passport, you will need some additional documents if traveling with just one parent. Both parents typically need to be present with the child. In the absence of one parent, you will need a signed and notarized form from the other parent consenting to the child's travel.
Obtaining A Passport Before Traveling
If you want to plan a trip but don't have a passport, then how do you get one? Many people ask, "Do I need a passport to go to Cancun?" Then they realize they aren't sure how to get one. Here is how to apply for a passport. First, you will need to complete the passport application and submit it to the U.S. Department of State. This application will require several documents. First, you need to provide proof of identity. This can be in the form of a driver's license or other photo identification. Next, you will need to provide proof of citizenship. That is typically done with a U.S. birth certificate or naturalization certificate. Finally, you will need to attach a passport photo to your application.
When choosing between a passport card vs book, it is generally best to just go ahead and get the book. Make sure that you apply for your passport well before your travel plans. It currently takes about 14 weeks to receive your passport after your application is submitted. Also, be aware of potential problems if you are a felon trying to get a passport. If you have felony drug charges, then you might be denied a passport and unable to travel internationally.
Additional Documents Required When Entering Mexico
Currently, there is a travel advisory for Mexico due to the COVID-19 pandemic. While vaccinations are not required to enter Mexico, it is a good idea to receive your vaccine before heading to Mexico. Unvaccinated travelers are encouraged to avoid travel at this time. In addition, you will be required to provide proof of a negative COVID test before returning to the U.S. No additional documents are required to travel to Mexico at this time.
The Bottom Line
When planning your trip to Cancun, make sure that you have your travel documents in order. The Mexican government strictly enforces the travel rules, and you could find yourself in some serious trouble if you arrive in Mexico without the proper documentation. Just go ahead and get yourself a passport book, and you should be covered regardless of how you arrive in the country. Go ahead and plan that dream vacation and enjoy yourself!
Frequently Asked Questions
Can I travel to Cancun with my birth certificate?
No, you cannot travel to Cancun with just a birth certificate. You will need either a passport book or a passport card when arriving in Cancun. If you are traveling by air, then you will need a passport book with blank pages available. If you visit on a cruise ship, then a passport card will suffice. A passport card will also work if traveling by land, but it would be an extremely long drive from the U.S. to Cancun.
​How long does it take to get a passport?
In most cases, regular service takes about 14 weeks to get a passport. For an additional fee, you can expedite your application. However, it still takes approximately 10 weeks. To make things as quick as possible, you should apply in person at a passport office or a post office that accepts passport applications.
Can a US citizen travel to Cancun without a passport?
The short answer is no. Many people ask, "Do you need a passport for Cancun?" Yes, you do need a passport. There are a few rare circumstances in which a U.S. citizen could travel to Cancun without a passport. An active-duty military person may travel without a passport as long as he or she has their military ID and travel orders. In addition, permanent residents can travel to Cancun with their permanent resident card and additional documentation.