Is AliExpress Safe? | [7 Ways] To Avoid Getting Scammed Inside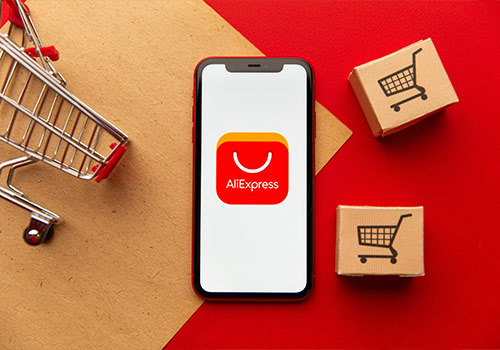 If you have ever considered selling anything online, you have probably heard of AliExpress. However, some people believe that everything on there is cheap junk and that you will get ripped off if you order from the site. Sure, a lot of the goods on there are cheap, but not all the sellers are looking to rip you off. In fact, there are a lot of great sellers there who make very reputable products. You simply need to know what to look for and how to deal with the sellers to have a successful transaction. Keep reading as we'll tell you everything that you need to know about AliExpress and give you some tips on how to avoid getting scammed.
What Is AliExpress?
AliExpress is a company owned by the Alibaba Group which is one of the largest companies in the e-commerce business. Alibaba specifically allows businesses to work directly with suppliers, whereas AliExpress allows for the suppliers to sell directly to consumers. While many people think that only Chinese manufacturers and suppliers are on the site, that is not necessarily the case. However, AliExpress is based in China, and this is where most of the suppliers are located as well.
AliExpress does not sell or market any of its own goods, rather it is a marketplace for sellers and buyers to connect. It is similar to eBay in this sense. One interesting fact is that residents of mainland China cannot buy items from AliExpress. They must use a different marketplace to purchase items from Chinese vendors. When it comes to the types of items that you might find on AliExpress, there really is no limit. You can find everything from cheap phone charging cables to more expensive items like kayaks or canoes and everything in between. Since the products are usually arriving from China, shipping prices can be expensive. Those will be discussed in more detail later in this article.
Is AliExpress Safe And Legit?
Many people ask, "Is AliExpress legit?" Yes, AliExpress is both safe and legit! While there is some risk inherent with all online shopping, you can rest assured that AliExpress is a very safe way to do business. In fact, the company offers buyer protection to help protect you against scams and fraud. As long as you buy directly from AliExpress, then you are covered. There is no extra charge for this service, and it covers everything that you buy on the platform.
If you are unable to resolve a dispute directly with the seller, then you simply need to contact AliExpress support. They will open a case on your behalf and allow the seller an opportunity to respond and remedy the situation. If the seller fails to respond to the dispute, then AliExpress will refund your money. You will typically see your refund in about two weeks although sometimes the process can take longer if the seller is going back and forth attempting to fix the problem.
Difference Between AliExpress And Alibaba
Many people might think that AliExpress and Alibaba are the same thing. But there are big differences between Alibaba vs AliExpress. While they are part of the same company, the two sites are distinctly different. While you can buy products directly from suppliers through AliExpress, you cannot make purchases directly through the Alibaba platform. On AliExpress, you will see items listed for sale just like eBay. However, Alibaba is more like a business directory for Chinese suppliers. You will need to contact the seller and work out a deal offline. These suppliers usually require large minimum quantities, and most of them will customize items for you if you intend to private label the items.
Using Alibaba usually requires a lot of capital up front for a large initial purchase; however, you can buy as little as a single item from AliExpress. Many people choose AliExpress to enter the dropshipping market and sell items on Amazon. Remember that the goods AliExpress offers are coming from China, so shipping times can be weeks to months in some cases.
AliExpress Shipping And Delivery Times
Shipping times can be a big sticking point when ordering from AliExpress USA. Since these goods are coming from China, it can take quite some time for them to arrive in the United States. Most sellers can ship the items quickly, but the transport time can be lengthy. At a minimum, you can expect your delivery to take 10-14 days. In some cases, shipping can take weeks or even months. Your item might remain in transit for what seems like forever. You are not likely to see a USPS Package Acceptance Pending message on your shipment because AliExpress sellers almost always use UPS, FedEx, or DHL for shipping. The size of the item that you are ordering can also play a role in shipping times. If you order a small item that can be shipped via air, then the delivery time is usually shorter. However, larger items that must be sent via container ship often take much longer.
Remember that in addition to shipping times, your items will need to go through customs when they arrive in the United States. This can add weeks to the process in some cases. Some sellers offer expedited shipping options, but those options can be quite expensive.
How To Avoid Getting Scammed Using AliExpress
One of the biggest concerns that people have when it comes to AliExpress is a fear of getting scammed. They are hesitant to hand over their credit card information or make any payments through PayPal for items that they might never receive. This is an understandable concern, although there are some things that you can do to protect yourself when using this online marketplace. Here are 7 things you need to do when searching for AliExpress products.
— Check Seller Feedback
Just like Amazon or eBay, always check the feedback before placing an order with a seller. You should be able to get a great idea of the quality of the products as well as the customer support offered by the seller. Just because someone has low prices does not always mean that they will be the best option. Try to avoid sellers with less than a 4-star rating. If a seller sells enough products, there are bound to be a couple of unhappy buyers. However, multiple instances of bad feedback might be a red flag. Always look for sellers with almost all positive feedback.
— Read Seller Guarantees
Sellers make guarantees on an individual item basis. Just because they offer a guarantee on one item that they sell does not mean they will offer the same guarantees on all items. There are a few different guarantees that sellers might make. The first is a full refund guarantee. This means that they will guarantee a full refund if the product is not as described. Domestic returns are another big guarantee. This means that the seller has a warehouse in the United States for easy return of items. Some sellers guarantee on-time delivery, and others guarantee genuine items. This is often used when buying big ticket electronics. Check the specific product page for the guarantees offered on that item.
— Use AliExpress Buyer Protection
While there is no need to do anything extra to use the buyer protection policy, make sure that you take advantage of it when necessary. If the item that you receive is of poor quality or does not match the product description, then AliExpress will get involved to protect you. If they are unable to get the seller to resolve the issue, then AliExpress will give you a full refund after going through the dispute process.
— Credit Card Payment Method
It might seem frightening to share your card details through AliExpress, but this is often the safest payment method. Using a debit card is not a great idea, and you should never send payment directly to a supplier outside of AliExpress using a bank account wire transfer. Doing this causes you to lose the buyer protection provided by the marketplace, and you might get left without your money and without any product to show for it. When using a credit card, not only do you receive the AliExpress buyer protection program, but most credit card companies allow you to dispute charges as well.
— Avoid Branded Products
Stay away from popular and expensive brands that might seem too good to be true like Apple, Android, or popular fashion brands. Though you might find items on the e-commerce platform that claim to be real, you might find yourself getting cheap, Chinese products instead. Even though the items may look identical, they are likely not authentic. It is best to simply avoid any name brands when purchasing products through AliExpress.
— Don't Confirm Delivery Too Quickly
When your item ships, you will generally receive an estimated delivery time. Make sure that you do not confirm delivery too quickly. This means that you should not confirm delivery until you physically have the item in your possession and have verified that it matches the item you ordered.
— Use Common Sense
This is one of the biggest tips that we can offer, and it really applies when doing business with any online store. Use common sense! If something seems too good to be true, then it probably is. If a seller makes you an offer that seems shady or involves too many complicated steps to complete payment, then you should probably steer clear of that transaction. Using common sense will go a long way toward safeguarding yourself and ensuring that you have a smooth transaction when using the AliExpress e-commerce site.
Hidden Costs Of AliExpress
When ordering items from AliExpress, you often have to look at more than just the price of the item. You may encounter some hidden costs that you were not aware of. For instance, shipping costs are often quite expensive since the items are being shipped directly from China, especially if you opt for an expedited shipping method. Many sellers will also add a handling fee to your items and they might charge extra for a tracking number, although that should be spelled out on the product page. Be sure to check for minimum order quantities as well. You might think you are only buying a single $5 item, but the seller might require a minimum purchase of 100 items or more.
Finally, import and export taxes can be a real burden. Most countries charge an import tax when bringing goods through customs into the country. You are required to pay these taxes before getting your item, and if the seller attempts to circumvent these taxes, that is illegal! While the import tax on most items is 20% or less, that can really add up on high ticket items. Be sure that you completely understand the taxes that will be due before you finalize your purchase. Otherwise, your item might get stuck in customs indefinitely because you are unable to afford the taxes that are due.
The Bottom Line
Many individuals and small businesses use AliExpress to source products for e-commerce from China. The site has many great benefits, and it is considered relatively safe. However, there is some risk associated with ordering online. To minimize this risk, there are things that you can do like making sure you only order from reputable sellers and using the proper payment method. This can help you avoid any potential scammers that might be lurking out there. When following the proper process, you can find high quality products at low prices without involving a middleman. Be sure that you follow the advice laid out in this article, especially if you are using AliExpress for the first time.
Frequently Asked Questions
Can you get scammed on AliExpress?
Yes, you can absolutely get scammed on AliExpress, although the odds of that happening are fairly low. Is AliExpress reliable? Yes! AliExpress has many features to help protect buyers from scams, and many sellers offer their own guarantees as well. To help avoid scams, make sure that you check the seller's feedback before placing an order with them. You will want to look for sellers who have amassed a large amount of positive feedback. Avoid sellers with little to no feedback or those with many negative reviews. This helps ensure that you are only dealing with reputable sellers who will hold up their end of the bargain.
Why is AliExpress so cheap?
It is usually so cheap because there is no middleman. You are buying directly from the manufacturer. In addition, labor in China is usually much lower than in the United States. This allows the suppliers there to produce goods at lower prices than other countries. Couple those items together and you can often get great prices on the goods that you purchase.
How can I trust that what I bought will be delivered?
You should start by reviewing the seller's feedback before placing your order. If they have a large number of positive AliExpress reviews, then that is a good sign. Next, you can rest easy knowing that you are protected with AliExpress Buyer Protection. If the seller fails to deliver your item as promised, then you can start the dispute process with AliExpress. They give the seller an opportunity to respond and resolve the situation. If the seller fails to do so, then AliExpress will issue you a full refund.
How much is the shipping on AliExpress?
The shipping price varies greatly depending on the size and weight of the item as well as how quickly you need the item to arrive. Cheaper shipping options usually require long shipping times. You might be able to get a small item shipped for as little as $5 – $10 while larger items requiring container shipping might cost several hundred dollars to ship. Some sellers even offer free shipping on some items! The seller can give you an exact shipping quote if you provide your zip code.
What are the risks of buying from AliExpress?
The risks of buying from AliExpress are about the same as purchasing from any online retailer. First, your item could get lost in shipping and never make it to you. Next, the item might arrive but be of lower quality than you expected. Finally, it is possible that you could get scammed. The seller might take your money but never ship anything at all. However, this is unlikely and you would still be protected by AliExpress Buyer Protection as long as you purchased the item directly through the marketplace.