Do You Need A Passport To Go To Puerto Rico? | [Full] Travel Guide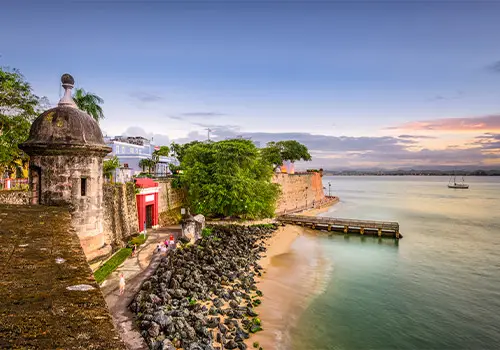 Puerto Rico is known as a great vacation getaway for many reasons. Not only does it provide the natural beauty of a Caribbean island, but it also provides many other great benefits as well. Since Puerto Rico is a U.S. territory, traveling there can be much easier for U.S. citizens than some other destinations. So, just what are the rules regarding travel and passports when it comes to Puerto Rico? We will provide you with everything that you need to know if you are considering a trip to Puerto Rico in the future. Keep reading to learn more!
Passport Requirements For U.S. Citizens
One of the biggest questions that arises is, "Do you need a passport for Puerto Rico?" People often wonder whether they will need a passport card or passport book. Luckily, if you are a U.S. citizen arriving from the United States, you will not need a passport at all! Since Puerto Rico is a U.S. territory, there are no passport requirements for U.S. citizens traveling into the territory. This is similar to the requirements for other U.S. territories like the U.S. Virgin Islands. You will simply need the same identification that would be required to travel to another state within the U.S.
When it comes time to pack your travel documents, you can rest easy knowing that you will be able to travel lightly. You will simply need your photo ID like a driver's license. Basically, whatever identification that you use to fly within the United States will work for entry into Puerto Rico. In addition, American citizens will not need to go through Puerto Rican Customs upon arrival. While you might not need a U.S. Passport, you should know that you currently need proof of your COVID vaccination or a negative COVID test. Failure to upload these documents to the travel portal before your arrival could result in a fine and a quarantine upon arrival.
Non-Citizen Passport Requirements
Travelers arriving from other countries or those who are non-U.S. citizens will need a valid passport or visa to enter Puerto Rico. While a passport will do for those entering from some countries like Canada, there are visa requirements for travelers entering from certain countries. You can find more information about which countries require a visa on the U.S. State Department website. Some people may believe that a photo ID and a birth certificate will be enough to gain entry, but that is not the case.
Other Documents Required To Visit Puerto Rico
Due to the current COVID pandemic, there are some additional entry requirements in place. Each traveler will need to complete the Traveler Declaration Form online through the Puerto Rico travel portal. For vaccinated travelers, a current vaccination card will need to be uploaded to the portal. For unvaccinated travelers, a negative PCR or antigen test taken no more than 72 hours prior to arrival will need to be uploaded. Failure to upload this documentation will result in fines and quarantine upon your arrival in San Juan. Testing is available at the San Juan airport for an additional fee.
For U.S. citizens returning to the mainland, there is no requirement of a negative COVID test before returning. Unlike most international travel, the U.S. Department of State does not require this when returning from a U.S. territory. American citizens also do not have to be concerned with U.S. Customs as there is no need to go through customs when traveling to Puerto Rico.
Additional Puerto Rico Travel Tips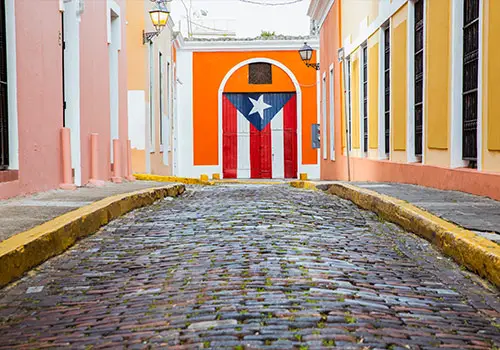 Puerto Rico has gained popularity in recent years for travelers. It provides a similar experience as some of its Caribbean counterparts like the Dominican Republic, Bermuda, or Jamaica, but travel is much easier for American citizens. It is similar to flying to Hawaii, but a much shorter flight for most travelers! In fact, it is only about 2 hours and 30 minutes from Miami to San Juan. Here are some additional tips that might be helpful when you get ready to book your trip.
— Weather
Like other tropical islands, the weather is usually great! Temperatures during the day can vary from the 80's into the 90's. Typically, the winter season provides some of the best weather with warm temperatures and little rain. Mid to late summer is considered the rainy season, with showers popping up on an almost daily basis. This is also the peak of hurricane season, so be mindful of hurricane activity if you plan a trip from June through October.
— Flights to San Juan
Flights to San Juan are available from many U.S. cities. Many flights are available from Miami which is a short 2 1/2 hours away. In addition, direct flights are available from as far away as New York. You should check with your airline carrier for specifics on flights from your location.
— Safety
Puerto Rico is considered a generally safe place for travel. As with any tourist destination, there is bound to be some small amount of crime taking place. You should always be aware of your surroundings and use common sense. Stay close to your resort if possible and never go anywhere alone with strangers.
— Vaccinations
You will be required to upload your vaccination card or a negative PCR or antigen test to the travel portal before your arrival. Failure to do this will result in a $300 fine and quarantine when you arrive. Do not start your trip on a bad note, so make sure that you get this taken care of before your arrival.
— Languages Spoken
English and Spanish are the two official languages of Puerto Rico. People born in Puerto Rico are U.S. citizens, and they usually speak one or both languages. While Spanish is a little more common, it is usually not difficult finding someone who can translate into English if needed. Travelers from the United States who speak only English should not worry about a language barrier as finding people who speak English there is fairly easy.
The Bottom Line
Travel to Puerto Rico can be a fun and exciting experience, and it is quite easy for U.S. citizens arriving from America since there are no passport requirements for those travelers. If arriving from a foreign port, you will need to present your U.S. passport to gain entry. The US dollar is accepted currency, and finding people who speak English is quite easy. If you are looking for a Caribbean vacation without leaving the United States, then Puerto Rico might be just the place for you!
Frequently Asked Questions
Can I use my driver's license to fly to Puerto Rico?
If you are an American citizen flying to Puerto Rico from the United States, then yes, a driver's license is all that you will need. You simply need your valid photo ID to present to the TSA at the airport like you were flying to any other state. However, if you are arriving in Puerto Rico from outside the U.S., then you will need a passport upon your arrival. You will also need to go through Puerto Rican Customs and Border Protection if arriving from outside the U.S.
Is Puerto Rico in the United States?
Puerto Rico is a U.S. territory. It is not one of the 50 states of the United States, but it is quite similar. People born in Puerto Rico are U.S. citizens, and people there are able to participate in some elections and other political activities of the United States. It is not located on the United States mainland, rather it is an island in the Caribbean.
What are the requirements for getting a passport?
The requirements for getting a passport are fairly straightforward. However, it can take a long period of time to obtain a passport, so make sure that you start the process well in advance of any upcoming travel. You will need to complete the appropriate application for passport and provide a Photo ID and proof of U.S. citizenship. This is typically done by providing a copy of your U.S. birth certificate. If you are applying for your first passport, then the application will need to be made in person. The passport agency does allow certain renewals to be online or through the mail.
What if I am a non-US citizen traveling to Puerto Rico?
Non-U.S. citizens will need a passport or visa to travel to Puerto Rico. If you are a permanent resident of the U.S., then you can present your permanent resident card as your identification. Travelers from most other countries will simply need a passport, although a visa is required in some cases.