What Is UPS SurePost? | How It Works & How Much It Costs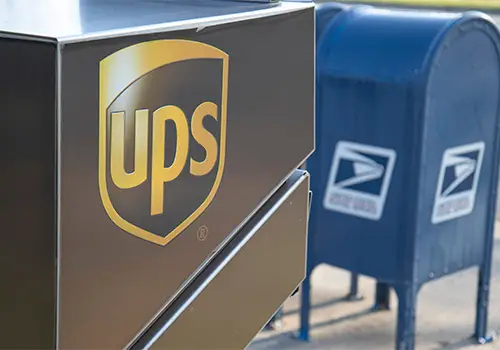 If you order items online regularly, then you have more than likely seen UPS SurePost as the shipping option on some of your orders. This service has pros and cons, but some people are not familiar at all with this service. Many people wonder whether this service is actually offered by UPS Ground or the USPS. The answer is both. If you need to know all the ins and outs of UPS SurePost service, then keep reading. We will tell you everything that you need to know including what types of packages you can send, how much it might cost, and how long you can expect delivery to take.
What Is UPS SurePost?
UPS SurePost is a residential economy shipping service offered in conjunction with UPS Ground Service and the United States Postal Service. So, how does UPS SurePost work? In this unique partnership, UPS Ground takes the package and delivers it to your local post office. The USPS then completes final delivery of the package. This is also called "last mile delivery." Last mile delivery is traditionally much more expensive than delivering packages to a central hub location. Since the U.S. Postal Service delivery area already includes each and every residential address out there, they can provide this last mile delivery service at a much lower cost.
When it comes to your UPS SurePost package, it needs to meet a few guidelines to qualify for this delivery option. First, the package must weigh less than 70 pounds. Next, it must not be excessively large. UPS provides specific measurements within which your package must fit. In some situations, you can still send an oversized package for an additional fee. This service also only applies to residential deliveries since this is a residential ground service. You cannot use SurePost delivery for business deliveries, and you will also not receive expedited or air service with this delivery option. Unlike traditional UPS Ground service, however, UPS SurePost will deliver to P.O. Boxes since the final delivery is performed by the USPS.
UPS SurePost Delivery Timeframes
This is what most ecommerce shippers and buyers want to know – how long is the UPS SurePost delivery time? The delivery time for UPS SurePost depends on how far your package must travel. In most cases, the expected delivery time is anywhere from 2 – 7 days. Since the postal service is making the ultimate delivery for these packages, UPS cannot guarantee a specific delivery date. There is a way to determine roughly how long your package will take though. You can check the UPS shipping chart for traditional UPS Ground service and see how long your package should take. If you are using SurePost service, then add a day or two to this timeframe. This will give you a rough idea of when you can expect your package to be delivered using the SurePost delivery option.
Cost For SurePost Shipping
This is one of the biggest benefits of this shipping option. The shipping cost associated with this service is usually quite low. It offers many of the benefits of traditional UPS Ground service with a much lower cost. In fact, it is one of the most cost effective shipping methods out there. The delivery cost for this service is a wide range depending on the size and weight of your package as well as how far it must travel. Shipping rates for this service can cost you anywhere from $10 – $50 depending on those factors. You might also have to pay an extra surcharge for packages shipped during peak times or delivery to certain final destination zip codes. The pricing will also vary a little depending on what your package contains. UPS SurePost Media and SurePost bound printed matter get slightly different pricing than other package types.
UPS SurePost Package Tracking
Many people who send packages via UPS are accustomed to UPS tracking. This tracking often provides very detailed tracking information with frequent updates. For the most part, UPS SurePost tracking provides similar updates. Simply enter your tracking number on the UPS website for the latest details. As your package moves through the UPS network, you should receive updates to your tracking as normal. You will see when your package moves from one UPS facility to the next, and you might see an In Transit tracking message when it is between facilities. Upon reaching your local city, the updates will change a little.
Once the package has been delivered to your local post office, then the tracking updates will stop. UPS delivery has done their part and delivered the package to the post office. It is now up to the post office to make the final delivery. Since the post office cannot access the UPS shipping software to make updates, then there are generally no tracking updates provided once the package arrives at the post office until final delivery is made. Even if you have a UPS My Choice account, you probably will not see additional updates once the package is dropped off to the postal service. In most cases, your package will be delivered the day after it arrives at the post office.
UPS Ground VS UPS SurePost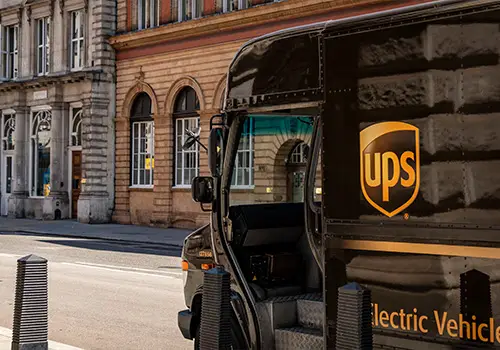 There are a few distinct differences between UPS SurePost vs UPS Ground. First, UPS Ground is delivered all the way from the retailer or shipping origin to the final destination using the UPS network. It will arrive at the final destination on a UPS truck. However, UPS SurePost is only delivered by UPS to your local post office. The US postal service makes the final delivery to your residential address.
UPS Ground serves both residential and business addresses, but UPS SurePost is strictly a residential service. They will not deliver to your business address. This is one big difference between UPS SurePost vs Ground. However, unlike UPS Ground service, you can receive deliveries to your P.O. Box using SurePost service.
The delivery timeframes with these services are fairly similar. SurePost service typically takes a day or two longer than traditional ground service. The difference in timeframe is similar to the difference between USPS First Class vs Priority Mail. SurePost packages always get Saturday delivery included as well. Since the post office always delivers on Saturdays, this is a feature that you will receive at no extra charge. UPS Saturday delivery is somewhat limited, although you can receive it using ground service in some cases. Tracking between the two services is very similar. With ground service, you can see updates all the way until the package is delivered. With SurePost, the updates typically trail off once the package has been delivered to the post office, although you will receive notice of final delivery.
The Bottom Line
UPS SurePost offers a cost effective method for delivery of residential ground packages. The service is offered through a collaboration between UPS and the postal service. UPS provides the main transportation logistics in getting the packages through the UPS Ground network. However, it delivers the package to your local post office, and the USPS makes the final delivery of the package. This service is very similar to FedEx Smartpost which is a partnership between FedEx and the USPS. SurePost is quite popular with ecommerce businesses because of its cheaper rates and reliable delivery, and businesses can keep a good handle on their weekly spend on shipping costs.
Frequently Asked Questions
What are the benefits of UPS SurePost?
The main benefits of this service are the lower costs and reliable delivery. The service costs less than traditional UPS Ground service, and the delivery times are typically only a day or two longer. UPS usually gets the package successfully to your local post office, and then your post office is responsible for the last mile delivery. If your post office is fast and reliable, then you can expect your package to be delivered quickly and reliably.
What if the SurePost package is damaged?
If your package is damaged, then you can file an insurance claim with UPS. Your package only includes $100 worth of insurance. So, if your package is worth more than that, then you need to declare the true value to UPS when you drop off your package. Be aware that including more than $100 of insurance will likely lead to additional shipping costs.
How is UPS SurePost delivered?
UPS SurePost is delivered to your local post office by the UPS Ground network. Then, the postal service makes the last mile delivery to your location. Once UPS drops off the package at the postal service, then their responsibility has ended. The postal service then has responsibility for making the final delivery. It will ultimately be delivered by your normal mail carrier or another postal service employee.
How long does it take for UPS SurePost to deliver?
It typically takes anywhere from 2 – 7 days for UPS SurePost home delivery to deliver your package. Typically, the delivery on this service takes one to two days longer than traditional UPS Ground service would take. The package will usually be delivered to the post office in the normal UPS Ground timeframe. It then takes another day or two for the post office to make the final delivery on the package.