Do You Need A Passport To Go To Jamaica? | [Full] Guide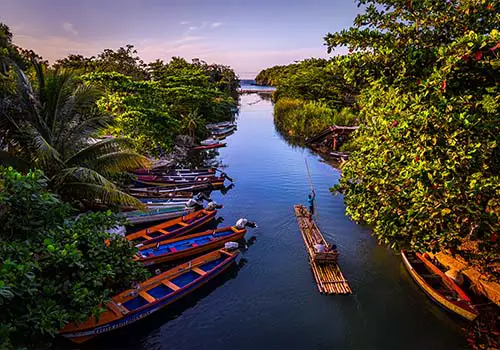 Are you ready to plan your dream vacation to Jamaica? Perhaps you are looking at resorts, flights, and all the other things that go into planning a tropical vacation. Have you considered whether or not you will need a valid passport to make the trip? Will you need any other travel documents as well? The Jamaican requirements are not extremely complicated, but you will want to be sure that you have everything in order before departing on your trip. Otherwise, you could find yourself in a bind when you get to Jamaica and are not allowed to enter the country. Keep reading and we'll tell you everything that you need to know about traveling to Jamaica from the US!
​Passport Requirements For Entering Jamaica
So, what are the Jamaica travel requirements? Believe it or not, the passport requirements differ depending on how you are entering the country. Many people fly into Jamaica and then taxi to their resort. Others might visit on a cruise ship while cruising around the Caribbean. Here is what you need to know about both travel methods.
— Traveling By Air
If you are arriving in Jamaica by air, then you will always need a valid U.S. passport. This same rule applies to all international air travel. You cannot travel internationally via plane using a birth certificate or Real ID. A passport book is also required. You cannot use a simple passport card when flying internationally. You should also be sure that your passport is valid for at least 6 months from your travel dates. You never know when a trip could get unexpectedly extended due to unforeseen circumstances. Having your passport expire during an international trip could cause you a huge headache. If you are staying in Jamaica for less than 90 days, then you will not need a visa.
— Arriving On A Cruise Ship
The requirements for U.S. citizens visiting Jamaica from a cruise ship are a little easier. You can enter Jamaica from a cruise ship using a passport card or an enhanced driver's license. Note that an enhanced driver's license is not the same thing as a Real ID. Only a handful of states are currently issuing enhanced licenses. You can also use a Western Hemisphere Travel Initiative (WHTI) document to enter the country. Although it is possible to enter with one of these documents, it is recommended to use a full passport book. Even though you arrive by cruise ship, something unforeseen could require you to fly back to the United States. In that case, you would need the passport book to reenter the country.
Using A Passport Card In Jamaica
So, can you use a passport card to enter Jamaica? In some cases, yes. A large number of tourists fly into Kingston or Montego Bay from the USA or Canada. When flying to Jamaica, a passport card will not work. You must have a passport book to fly into the country. However, if you are entering via cruise ship, then a passport card will suffice.
Passport cards are essentially simpler versions of the passport book. It is a smaller document, about the size of a credit card. There are no blank pages for customs stamps. Rather, the card is scanned as you enter the country. Most people carry these cards in their wallet because they are often used when crossing the border into Canada or Mexico from the U.S. They are also accepted at many Caribbean countries, although only when entering those countries via sea. Passport cards also work when entering countries via land, but since that is not really an option when visiting an island, we will not go into further detail on that.
Other Travel Document Options
Many people wonder whether they can use a birth certificate or some other photo ID to travel to Jamaica. If you visit Jamaica via plane, the answer is no. The only document that will allow you entry to Jamaica when you fly there is a passport book. There are no exceptions to this rule, and you will not be allowed entry to the country if you do not have a passport.
If you arrive via sea on a cruise ship, then this does open up some other options. First, you can use the simpler passport card mentioned above. These cards are cheaper and easier to carry than the full passport book. In addition to a passport card, you could also use an enhanced driver's license to enter from a cruise ship. However, only about 5 states are currently issuing these licenses.
Finally, you can use one of the documents provided by the Trusted Traveler program. This is a program designed by the Department of Homeland Security for American citizens to use expedited lanes at airports and when traveling internationally. There are a few of these programs like Nexus, Sentri, and Fast. As of this time, any of those three may be used to enter Jamaica from a cruise ship.
If you are staying less than 90 days, then you will not need a tourist visa. It is highly recommended that you obtain a passport book even if you plan to arrive on a cruise ship. In case of emergency, you might need to purchase a return ticket on an airline. Without a passport, you would be required to visit the U.S. Embassy to attempt to obtain an emergency passport. It would be best to avoid putting yourself in that situation.
How To Obtain A Passport
Getting a passport is not difficult although the process can be quite lengthy. When you apply for a passport, you will need to complete the application form and return it to the Department of State. There are a few requirements for the application, and there is additional documentation that you will need to attach. You will be required to provide your birth certificate or other document that proves your U.S. citizenship. Permanent residents cannot obtain a U.S. passport. You will also be required to provide a photo ID like a driver's license or military ID card.
You will need to attach a passport photo to your passport application. The documents mentioned above will need to be original documents. Photocopies are not accepted, so most people decide to submit their application in person at a passport services office or a participating post office. It currently takes about 14 weeks to receive your passport after your application is completed, so make sure that you allow yourself enough time before your trip. Though passports can be issued to felons, you might be denied if you have a felony drug charge or past due child support payments.
Current Jamaica Travel Restrictions
Jamaica does not have many additional travel restrictions other than having the proper paperwork. You are not allowed to enter the country with more than $10,000 in cash. The only vaccinations currently required to enter Jamaica are for yellow fever. This vaccination is only required if you are entering from a foreign country that is at high risk for yellow fever. No COVID vaccine is required at this time.
Visitors will also be required to complete a Jamaica travel authorization form within 7 days of their visit. To complete this form, you will need a negative COVID test. If you have any questions or difficulty while visiting the country, the Jamaican embassy is always willing to help. Many of the all-inclusive resorts around the island also have staff who can help answer questions about the required documents or paperwork.
The Bottom Line
If you are ready to plan that big vacation to the beautiful Caribbean island of Jamaica, then make sure that you have your passport ready. While cruise passengers have a few additional options, most people will need a passport when visiting Jamaica. This is always the case when flying into Ocho Rios or any of the international airports on the island. In fact, a passport book is always required for any international travel by plane. When deciding between a passport card vs book, it is usually best to go ahead and get the book. Once you have your passport, go ahead and book that trip and have fun!
Frequently Asked Questions
Can I use my birth certificate to travel to Jamaica?
No, you cannot use your birth certificate to enter Jamaica. Many people ask, "Do you need a passport for Jamaica?" The answer is yes. You will need a passport book when entering via plane. If you are arriving on a cruise ship, you can use a passport card, enhanced driver's license, or a document from one of the Trusted Traveler programs.
Can I use a real ID to go to Jamaica?
No, a real ID is not a valid travel document that will allow you access to enter Jamaica. Real IDs are used for domestic travel within the United States, but they are not used for international travel. In most cases, you will need a passport book to enter the country.
What is the cost to travel to Jamaica without a passport?
The costs of traveling without a passport could really start to add up. First, you will not be allowed to enter the country. So, you would have wasted money on your airline ticket. Next, you might not be allowed re-entry into the United States when you return. If you attempt to enter Jamaica without a passport after being denied access, then you could be charged with a crime and incur legal fees or even jail time. Do not risk it! Simply get your passport and then enjoy your trip.
What is the difference between a passport and a birth certificate?
A birth certificate can be used to prove your U.S. citizenship, but it is not used for international travel. A passport is used to prove both your citizenship and identification. You will need a passport to travel internationally, although a birth certificate is required when applying for your passport.