Is There Mail Delivery Today? | [Full] USPS Schedule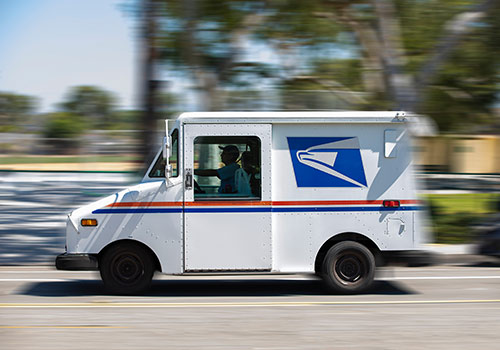 The post office is known for letting nothing get in their way of delivering the mail. But, will they deliver mail every single day of the year? They almost never deliver mail on Sundays, and there are also a few Federal holidays sprinkled throughout the year on which there is no mail delivery. So, is there mail delivery today? Keep reading as we detail the mail delivery for today and tomorrow as well as the full holiday schedule for the U.S. Postal Service.
Is There Mail Delivery Today?
Yes!
Today is not a federal holiday, so there will be normal mail delivery. Mail is not delivered on Sundays. Happy mailing!
Are you waiting on your important mail piece to be delivered only to realize that today is a holiday? The postal service does not deliver on most holidays, and since postal workers are Federal employees, they usually get those days off. However, you can expect that the mail will be delivered most of the time on Monday through Saturday. If the post office is open today, then your mail should be delivered. In some situations, your Amazon packages or Priority Mail Express packages will even be delivered on Sundays. While the Coronavirus pandemic has caused the local post office to remain closed in some areas, the mail delivery has continued on like normal for the most part. In fact, the USPS has been busier than ever with people doing more online shopping and ordering items from home.
Is There Mail Delivery Tomorrow?
No
Tomorrow is a either a federal holiday or a Sunday, which means that your mail will not be delivered tomorrow.
The United States Postal Service is considered an essential service, so it should keep running its normal schedule as much as possible. Maybe you are waiting patiently for that letter or package to arrive, and you are wondering, "Does the mail run today?" Even if your package does not arrive today, you might be able to expect it tomorrow. Unless tomorrow is Sunday or a holiday, then the mail is going to come tomorrow as well.
2021 USPS Holidays
The following is a list of 2021 holidays observed by the post office. There will be no regular mail delivery service on the dates mentioned below.
2021 USPS Holidays
| | |
| --- | --- |
| New Year's Day | Friday, January 1 |
| Martin Luther King Jr. Day | Monday, January 18 |
| Presidents' Day / Washington's Birthday | Monday, February 15 |
| Memorial Day | Monday, May 31 |
| Independence Day | Monday, July 5 (July 4 falls on Sunday) |
| Labor Day | Monday, September 6 |
| Columbus Day | Monday, October 11 |
| Veterans Day | Thursday, November 11 |
| Thanksgiving Day | Thursday, November 25 |
| Christmas Day | Saturday, December 25 |
In addition, there may be a couple of additional days with limited service or limited hours at your local post office. Your local office will likely close early on Christmas Eve, Friday, December 24 as well as New Year's Eve, Friday, December 31. Also, President Joe Biden signed a bill in 2021 declaring Juneteenth a Federal holiday. This was known as the Juneteenth National Independence Day Act. If you need to get questions answered or order stamps or supplies on one of these holidays, you can still visit usps.com to perform many services online. In addition to the post office, the UPS Store and FedEx offices are usually closed on the holidays mentioned above as well.
The Bottom Line
The postal service delivers mail almost every day of the year with the exception of Sundays and a few national holidays. If you are waiting for your letter or package to arrive, then there is a good chance that it will be delivered today. If, however, today is one of the holidays mentioned above, then you will have to wait until tomorrow for your package to arrive.
Frequently Asked Questions
What days does the post office deliver mail?
Maybe you're wondering, "Is there mail delivery today?" The post office delivers regular mail Monday through Saturday. During some times where your local office is experiencing high volumes, they might choose to deliver mail on Sundays as well. In addition, some Amazon deliveries are performed on Sundays. There are a few Federal holidays scattered throughout the year on which no mail delivery occurs.
Is there mail delivery on Saturday?
Yes! The postal service delivers regular mail and packages on Saturdays at no additional charge. If a holiday falls on a Saturday, then the mail and packages that you would normally receive will not be delivered until Monday. Sunday delivery, however, is only available for a few premium services.
What days do you have to go to the post office to mail a package?
You can visit your local post office any regular mail day Monday through Saturday to mail a package. Make sure that you are aware that most locations have limited hours on Saturday. Most post office locations are closed on Sunday, so you cannot visit your local office to mail a package on Sunday.