What Shipping Supplies Do Post Offices Sell?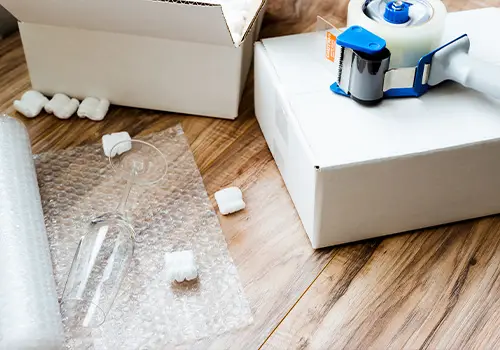 The United States Postal Service not only delivers your packages and envelopes, it can supply the materials you need to prepare items for shipping. You may go to the post office to check your P.O. box or to buy stamps, but upon closer inspection you'll discover that they sell everything you need to pack up your mail as well. The post office staff will be available to offer advice on the best way to package an item, and we recommend you always double-check with them if you have any questions.
---
Packing Tape & Adhesives
Dependable packing tape is one of the most important parts of packing up an item and is available at most post offices in a variety of sizes and styles. Tape usually comes in clear or a solid brown color. Single roll or multi-roll packs can be bought by themselves or with a tape dispenser for easier use.
---
Boxes and Shipping Tubes
Boxes are stocked at most post offices in many different shapes and sizes. There are small boxes for shipping DVDs and larger 'board game' sized boxes. Tall, wide, bulky, flat — post offices carry them all. Mailing tubes come in round and triangular (no-roll) shapes. Priority Mail and Priority Mail Express boxes and envelopes are free to pick up and pack. ReadyPost supplies include certain tapes and dispensers, boxes, envelopes, and cartons at a fee. Flat rate packaging is just that- whatever fits in the flat rate package ships at the same flat rate. International packaging is available as well.
---
Envelopes
Your local post office will also carry a wide variety of envelopes. From card-sized to large, padded envelopes, these can come in cardboard, paper, or with plastic see-through windows. There are flat rate, bubble mailers, cushion mailers, and holiday-themed envelopes as well.
---
Other Packing Materials
Bubble wrap is usually available in flat, pre-cut sheets or in larger bulk rolls. The bubbles themselves come in at least two sizes: large bubbles and small. Packing peanuts that biodegrade are available as are packing pellets.
---
Shipping Labels
Self-adhesive shipping labels and forms, as well as ink stampers, are available at most post offices and can make packing up your mail just a little bit easier.
---
Postage and Scales
While the post office determines postal charges on all items sent through the postal system, they don't mind if you calculate and print your own. Having a postal scale conveniently allows you to manage your own postage without having to stand in line at the post office. You can often save on stamps and postage charges as well. Print online postage at home and leave packages out for the mail deliverer to pick up for you.
---
Miscellaneous Shipping Supplies
From greeting cards to holiday-themed or character-themed envelopes, boxes, and cartons, the USPS offers the opportunity to add a little extra feeling and flair as your package makes its way through the mail system and arrives on its recipient's porch or desk.