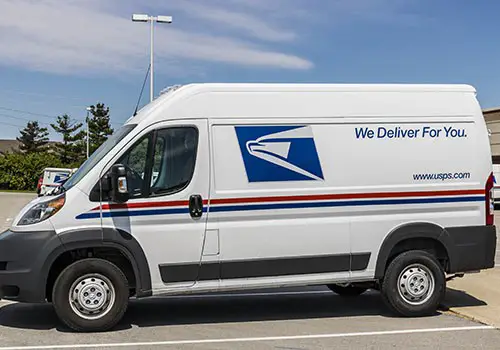 First-class mail service is one of the most commonly used mail services in the United States. When you head to the post office, buy a stamp, and drop a letter in the mail, it is more than likely getting sent through first-class mail. The service provides a cost-effective method for reliably getting your letter or small package delivered pretty quickly. However, one of the drawbacks of first-class mail is that it does not include any tracking capability as a standard feature. This usually makes many people wonder how long first-class mail takes. We'll give you all the details you need to know, including how long it takes, how it works, and how much it will cost you.
How Long Does First-Class Mail Take?
So, how long does it take to mail a letter? According to the United States Postal Service, first-class mail is delivered within 1 to 5 business days. Packages that are shipped using first-class package service are delivered within 1 to 3 business days. First-class package times are on par with the more expensive Priority mail service. The specific amount of time that is required to deliver your mail piece depends on how far it must travel. If you send a first-class letter to someone in the same city, it is likely to arrive the next day. However, if the letter needs to travel across the country, it will probably take five days for it to arrive.
You should also remember that first-class USPS mail delivery times are not guaranteed. While the USPS delivers most first-class mail within five days, there are some pieces that might take longer than this. If your mail item or package is late arriving, there is not much recourse that you have with the U.S. Postal Service. You are not entitled to a refund of any postage charges. First-class mail also does not include any tracking capabilities as a standard feature. If you need to be able to track your item, then you will need to pay an additional fee to add this extra service.
What Is USPS First-Class Mail?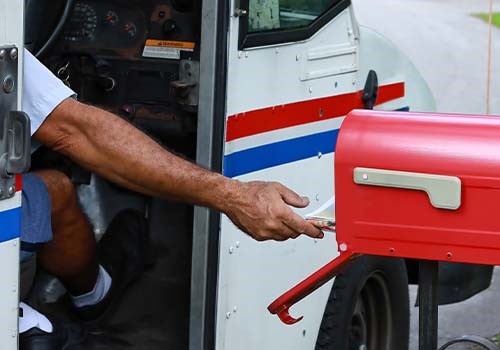 USPS first-class mail is an affordable mail service used to send letters, envelopes, and lightweight packages. First-class mail is typically used for both personal and business correspondence. Some business or legal mailings require at least first-class mail service to be used. When you head down to the post office and purchase a postage stamp, you are typically purchasing a first-class stamp. This will allow you to send a letter using first-class mail service. Letters weighing up to 3.5 ounces can be sent through first-class mail. Similarly, small packages weighing less than 13 ounces can be sent using first-class package service. Large envelopes that exceed the weight limit or heavier packages will need to be sent using another service, like USPS Priority mail or something similar.
Some people might think that first-class mail is the same thing as regular mail or standard mail. It is easy to think that because first-class mail is so common. However, first-class mail is a step above regular mail service. Regular mail is a little cheaper and slower than first-class service. Regular mail is typically used for advertisements, like flyers and catalogs. First-class service includes return service for undeliverable mail and a few other features that make it required for certain correspondence.
How First-Class Mail Works
Using first-class mail is simple. Unlike certified mail or some services that require special addressing and handling, sending a letter through first-class mail is as simple as addressing the envelope and putting a stamp on it. This exact process applies when sending a small package as well. You just need to properly address the package and apply the correct amount of postage. The postage required will depend on the size and weight of the package.
The current first-class postage rate for a standard-sized letter is $0.58. If you purchase a Forever stamp, it can be used to send a first-class letter at any time in the future – even if postage rates increase. First-class service does not include many extra services, like tracking or free package pickup. First-class mail letters are delivered using a best-effort approach. While every effort is made to deliver the letters within the 5-day timeframe, longer delivery times sometimes apply. Since the service is not guaranteed, you cannot get a refund of your postage if your letter or package arrives late.
First-Class Mail VS Priority Mail: What's The Difference?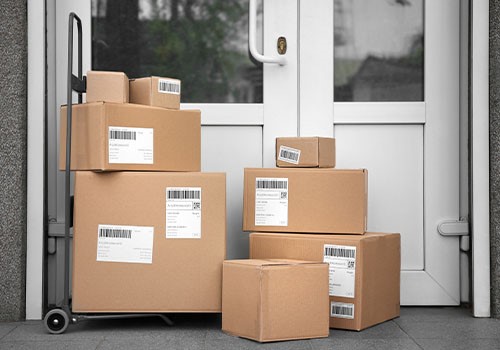 Now that you know the basics of first-class mail, let's examine how that compares to Priority mail. One of the first differences between first-class and Priority mail is delivery time. While pieces of mail sent using first-class service are usually delivered in 1 to 5 business days, items sent via Priority mail have a standard delivery time of 1 to 3 days. This Priority mail time is not guaranteed unless you opt for the Priority Mail Express service. Priority mail also includes $50 worth of insurance and a tracking number at no additional cost.
Another big difference between these two mail services is the size and weight limit. Remember that first-class mail can only be used to send letters up to 3.5 ounces or packages up to 13 ounces. Priority mail can be used to send packages weighing up to 70 pounds. However, there is a significant cost difference as well. First-class mail costs only $0.58 to send a letter; however, Priority mail shipping costs start at $8. The size and weight of the package, as well as how far the package must travel, all affect the total price of the postage for a Priority mail package.
While first-class mail service has no guaranteed shipping times, Priority Mail Express is a guaranteed service. Priority Mail Express is guaranteed to have your package delivered either the next day or 2nd day. Due to these service standards, you will be entitled to a refund of at least a portion of your shipping charges if your package arrives late. This is the service you should use when you have a time-sensitive shipment that must arrive at its destination at a certain time. Unlike FedEx, Priority Mail Express will even deliver overnight to a PO Box.
Benefits Of Using First-Class Mail
Since first-class mail is used so regularly, it should come as no surprise that there are many benefits to the service. First, it is a cost-effective method for individuals and small businesses to have their mail items delivered in a timely manner. Along the same lines, there are no minimum requirements for using first-class mail. This means that you could mail a single item or multiple items – whatever fits your needs.
Another benefit of this service is the fact that it gets automatically forwarded to the recipient if their address has changed. Similarly, if the item is undeliverable, then it will get returned to the sender. This helps prevent lost packages, and it allows the sender to update the recipient's information before sending additional correspondence. When it comes to first-class mail, many people wonder, "Does USPS deliver on Saturday?" USPS Saturday delivery is also included at no extra charge for first-class mail. If you're wondering, "Does USPS deliver on Sunday," the answer is no in most cases.
Lastly, first-class mail gets priority over regular mail at your local post office and in the postal service infrastructure. This can be especially important during times of high volumes, like around the holidays. This means that items sent using first-class service will get delivered quicker than those sent using regular mail. This can be a huge benefit to individuals or small businesses who are attempting to get items delivered to their customers during these times.
Causes Of Delays In Standard Mail Service
We have already mentioned that neither standard mail nor first-class service is a guaranteed service. Sometimes, mailers sent through these services get delayed. So, what causes these delays? A delay could be caused by many things, but here are some of the most common reasons your letter or package might be delayed.
— Weather Conditions
One of the most common causes of a delay is the weather. Inclement weather can prevent your mail carrier from getting your package delivered on time. These delays can happen at almost any point along the route. This means that the delay might happen while the package is in transit, or it might not occur until the package is out for delivery. Typically, a delay caused by weather will be fairly short. As soon as the weather improves, the package will begin moving again and make its way to your location.
— Equipment Malfunctions
As your mail passes through sorting facilities within the postal service infrastructure, it must pass through sorting machines and other equipment that process the mail. If this equipment malfunctions, it can lead to a delay in the arrival of your mail. It might mean that the mail must be manually processed and sorted until the equipment is repaired. Manual sorting is often much slower than the automatic sorting performed by most of these machines. The length of the delay depends on the current volume of mail and how long it takes to repair the equipment.
— Incomplete Or Incorrect Address
It is vitally important to get the correct address on your letter or package. An incomplete or incorrect address will lead to delivery issues and delays. In some cases, the shipping label might get damaged during the shipping process. If the postal workers are unable to read the address, then the package will usually be held until additional information is obtained. The post office will likely attempt to contact the sender to gather the required information. In the worst case, the package might be returned to the sender or never delivered at all if the post office cannot get in touch with the sender or recipient.
— Damaged Letter Or Package
While most letters and packages are delivered without any issues, sometimes accidents happen. If your letter or package suffers damage in transit, it might cause a delay in delivery. If the damage is insignificant, then the item will continue to move along like normal. However, if the damage is extensive, then the package will probably be pulled aside while the postal service contacts the sender. Depending on the type of mail used, you might need to file an insurance claim to recoup your money for the item.
The Bottom Line
First-class mail delivery times range anywhere from 1 to 5 business days for delivery of letters and 1 to 3 business days for delivery of packages. The USPS delivery time depends on how far the package must travel. Items delivered within the same city are usually delivered the next day, while items traveling across the country will take longer. First-class mail service is an extremely cost-effective method for people to send items and have them delivered in a timely manner.
Frequently Asked Questions
Can first class mail take 5 days?
Yes, first-class mail can take up to five business days for delivery. While that is the longest it should take in most cases, remember that first-class service is not guaranteed. This means that you might encounter situations when first-class mail takes longer than five days. While this is not common, you should keep that in mind when sending any items through this service. If you have a time-sensitive letter that must be delivered before a specific date, you should consider using a guaranteed service like Priority Mail Express.
What is the latest first-class mail arrival time?
In most cases, first-class mail should arrive before 8:00 PM local time. This is typically when mail carriers should be done for the day. However, you might find that some carriers will make deliveries later than this – especially during busy times. Around the holidays, it is possible that your first-class mail could be delivered as late as 10:00 PM.
How much does it cost to send first-class mail at the post office?
Sending first-class mail is pretty inexpensive. Sending a letter weighing up to one ounce will only cost you $0.58. First-class package rates start around $4. Remember that you can only send packages weighing up to 13 ounces through first-class service. If the package weighs more than this, you will need to use a different service, such as Priority Mail or USPS retail ground.