Amazon is known for quick deliveries, especially for Amazon Prime members. Two-day shipping is something that everyone has come to expect now. Amazon uses a combination of delivery methods to accomplish its fast shipping. They partner with USPS in many cases, and they also have their own delivery drivers who deliver packages each day. Although you know your package should arrive quickly, you might be wondering just what time that package will arrive. There are a few things that can affect your delivery time, and we will tell you about those here. Keep reading as we give you all the details you need to know about Amazon delivery hours.
What Time Does Amazon Deliver Packages?
So, when does Amazon deliver? The window of time in which Amazon packages might arrive at your house is fairly wide. However, the specific time those packages arrive will depend on a few things, including whether the delivery is on a weekday or the weekend. Here is when you can expect your package to arrive.
— Weekday Delivery Times
Many people wonder, "What time does Amazon start delivering?" If your delivery is being made on a weekday, the delivery could occur anytime between 6:00 AM and 10:00 PM local time. That is quite a wide delivery window, and you might be concerned about a delivery arriving extremely early in the morning or late at night. However, you can rest assured that Amazon drivers will not ring the doorbell or knock on your door before 8:00 AM or after 8:00 PM, except in a couple of circumstances. If you have scheduled delivery before 8:00 AM or after 8:00 PM, the delivery driver will attempt to contact you at the phone number in your Amazon account before making the delivery. If the driver is able to reach you, the delivery will be made. Similarly, if the delivery requires a signature, the driver will attempt to contact you if the delivery might occur later than 8:00 PM.
As you probably know, Amazon contracts with the United States postal service to make many of their deliveries. If USPS is making your delivery, the potential delivery window on a weekday is the same. However, the vast majority of deliveries occur between 8:00 AM and 8:00 PM. Deliveries rarely ever occur before 8:00 AM, although some deliveries might occur after 8:00 PM. These late deliveries are more common during busy times, like the holiday season. For both Amazon drivers and USPS, the specific delivery time will depend on how many other packages the driver must deliver in your area. It also depends on whether your address falls at the beginning or the end of the driver's route.
— Weekend Delivery Times
So, what about delivery service on the weekend? The potential window for delivery times is about the same on the weekend. Your delivery could happen any time between 8:00 AM and 8:00 PM local time on Saturday and 9:00 AM to 8:00 PM on Sunday. Remember that Sunday Amazon deliveries are provided mostly by USPS and Amazon Flex drivers. However, the chances of an early or late delivery decrease even more on the weekend. In addition, you can set your weekend delivery preferences in your Amazon account. For example, if your deliveries go to your business that is closed on the weekend, you can turn off weekend delivery. This will ensure that someone is available at the business to receive the delivery on a weekday.
Changing Your Amazon Delivery Time
Many people wonder whether it's possible to change their delivery time. The answer is yes, but there is a caveat. You can change the delivery options on your Amazon order, but you must do so before the order is picked up by the driver and headed to your location. Once the order is on the truck for delivery, it is too late to request a change. The amount of time you have to make the request depends on the shipping speed of your order. If you request the change before it's too late, you can change your delivery day or request a specific timeframe. Note that specific delivery times are typically not guaranteed.
For some items, you might be able to schedule your delivery. This means that you can select a specific day and window of time during which you want the delivery to arrive. This shipping option is usually available on valuable items or deliveries that require a signature. You can check the available delivery options by visiting the Amazon website and selecting "My Orders" in your account. Amazon customers love the ability to easily view their orders and change their delivery preferences through the website or the Amazon mobile app.
Delivery Times With Amazon Fresh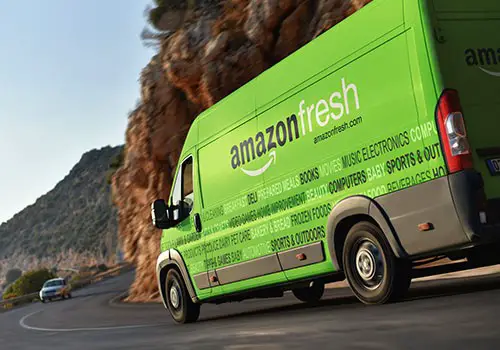 So far, we have been discussing deliveries that mostly happen from Amazon warehouses. However, Amazon has recently partnered with Whole Foods to make next-day and even same-day deliveries of groceries. This new service is called Amazon Fresh, and it is included with Prime membership. So, how late does Amazon deliver these orders? The potential delivery window is about the same as regular Amazon orders. Amazon Fresh orders can arrive between 8:00 AM to 8:00 PM local time. However, you get more ability to narrow down the specific window of time in which your order will arrive.
When you place your Amazon Fresh order, you will select a two-hour delivery window. This means that your order will arrive between the hours that you select. For example, if you want your order early in the day, then you might select 8:00 AM to 10:00 AM. The available delivery times will depend on the order volume on that particular day. You might find that some time slots are unavailable, but that is because that particular time slot is already full with other deliveries.
Tracking Your Amazon Package
Now that you know the delivery times of the online retailer, how can you track your packages that are coming from Amazon? When it comes to eCommerce, Amazon offers the best tracking capabilities available. The specific tracking that is available depends on which courier is making the delivery of your package. USPS, UPS, FedEx, and Amazon all have slightly different tracking systems. While you can track your package directly from your Amazon account, they might be relying on another carrier's tracking system to provide updates to you. However, all you need to do is log into your account and select "My Orders." From there, you can select the "Track My Order" option to get an update on where your package is.
If Amazon is making the final delivery, you can even track your package in real-time in some cases. The Amazon mobile app can show you exactly where the delivery truck is so that you have a very good idea of when your package delivery will occur. Remember that if you need to change your delivery date, it is best to do so before or immediately after checkout. If you wait too long, you will be unable to change the delivery time.
What To Do If Your Package Is Late
So, what happens if your tracking states that the package has been delivered, but you don't have it? First, make sure you make every attempt to locate the package. Check the front door, back door, garage door, and anywhere else the driver may have left the package. If the order was being delivered to your business, make sure you check with the front desk and co-workers to see if the package was left with someone else.
If you still cannot locate your package, check your Amazon account for additional details about the delivery. It is possible that delivery was attempted, but you might need to pick up the package at your local post office if you were unavailable. Lastly, if you still cannot locate the item, then you will need to contact Amazon customer service. In rare instances, your Amazon package might be stolen or lost. They can help you get additional details about the delivery and locate the package. If the item was truly lost, then they can assist with getting a refund issued or another delivery scheduled.
The Bottom Line
Amazon has made us all accustomed to fast deliveries by getting packages to customers within a couple of business days. They even provide one-day shipping in many cases. You can expect that these deliveries will arrive between 8:00 AM to 8:00 PM most of the time, although they could arrive as early as 6:00 AM or as late as 10:00 PM on weekdays. Amazon offers the ability to change your delivery day as long as you catch your order early enough. You can also schedule delivery for a specific day and time window for some orders. Lastly, Amazon Fresh allows you to schedule delivery on a particular day within a two-hour window of time for your grocery delivery.
Frequently Asked Questions
Does Amazon deliver at the exact time?
No, Amazon does not deliver at an exact time. If you're wondering, "What time do Amazon packages arrive," it is difficult to provide a specific answer. Your delivery could arrive as early as 6:00 AM on weekdays and as late as 10:00 PM. However, most deliveries occur between 8:00 AM and 8:00 PM. If you need your item to arrive at a specific time, you might be able to schedule your delivery. However, you still are only allowed to select a time window. This is usually a 2 to 3-hour window during which your package will arrive.
Does Amazon deliver on weekends?
Yes, Amazon delivers on weekends. Their delivery times on weekends are about the same as those during the week, although they don't deliver quite as early or quite as late on the weekend. Most weekend deliveries are performed by USPS or Amazon Flex drivers. Both Saturday and Sunday delivery are available, although Sunday delivery is usually a little more limited. If Sunday delivery is an option, you will be able to choose that at checkout.
What is the latest time Amazon delivers?
So, how late does Amazon deliver? The latest that Amazon delivers is 10:00 PM. However, if your order is delivered after 8:00 PM, the driver will not ring the doorbell or knock on the door. This is to prevent disturbing you in your home late at night. The only exception is when a signature is required, or you have scheduled your delivery during a late timeframe. In that case, the driver will attempt to contact you before making the delivery. As long as the driver gets in touch with you, then he will ring the doorbell upon arrival to complete the delivery. If the driver cannot reach you on the phone, Amazon will reschedule the delivery.