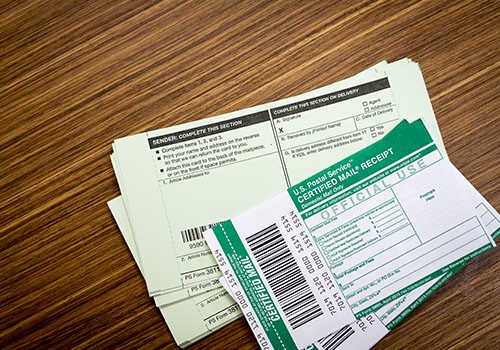 Most people who are familiar with the USPS mail service have at least heard of certified mail. Perhaps you have even sent or received a certified letter in the past. You likely know that it is a step above regular first-class mail in terms of security and tracking. Certified mail is often used when sending legal documents or other important pieces of mail. So, just how does certified mail work? Keep reading as we give you all the details you need to know. We'll tell you how certified mail works, how much it costs, and how you can send a letter using this service.
What Is USPS Certified Mail?
Certified mail is a service offered by the United States Postal Service that provides a mailing receipt and proof of delivery for items sent through the service. If the item cannot be delivered, you will still receive verification that delivery was attempted. The receipt from certified mail acts as legal proof that the item was placed into the mail for the intended recipient. The return receipt acts as proof that the item was delivered to the addressee, or at least that delivery was attempted. In some cases, the addressee might refuse to sign for the item. In this case, the mail will be returned to the sender along with the receipt verifying attempted delivery.
Certified mail was started in 1955 based on an idea by an assistant U.S. Postmaster General. Certified mail is typically used for important business mailings or legal mailings, although it can also be used for other reasons. Any time the sender needs a unique tracking number to show proof of mailing, certified mail can be used.
How And When To Use Certified Mail
Are you wondering how to send certified mail? Sending certified mail is not difficult. Simply inform the postal worker at the post office that you wish to send your letter or package via certified mail. Note that certified mail is not a class of service; instead, it is a feature that is added to your mailing. You can use either first-class mail or Priority mail to send certified mail. You can even print your own label from home for certified mail through USPS.com. Upon mailing your letter, you will be issued a receipt showing that the letter was mailed. You can also select a few different return receipt options. Those will be discussed in more detail later in this article.
So, when should you use certified mail service? Most of the time, certified mail is used for business mailings. This could be letters from the IRS, attorneys, debt collectors, or any other form of correspondence that needs this additional layer of security. These businesses can use certified mail to prove in court that correspondence was sent to you. Even if you refuse to sign for the mail piece, proving that a delivery attempt was made is just as good as proving an actual delivery in some cases.
Certified Mail Return Receipt Options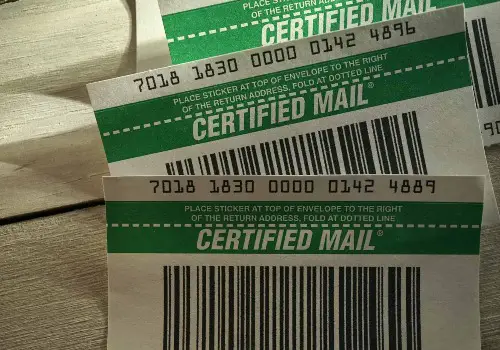 We mentioned earlier that you could select different return receipt options when using certified mail. So, what are the options, and what do they each mean? The one that you choose might depend on how vital the mailpiece is and what level of proof you need that the package or letter was delivered. Here are the available options.
— No Return Receipt
With this option, you will not have a receipt returned to you upon the delivery. You still receive a unique USPS tracking number that allows you to get delivery confirmation. This tracking number can be checked over the phone or via the USPS website. The U.S. postal service can leave the letter with anyone who receives mail at the recipient's address. This means that the letter or package might get left with a family member or roommate who also receives mail at the address. You still get a mailing receipt that shows the item was mailed, but this option is rarely chosen since no return receipt is provided.
— Standard Return Receipt
The standard return receipt is one of the most common options chosen for certified mail. In this case, a green card is attached to the certified mail form. Upon delivery to the recipient, the recipient will sign and date both the green card and the certified mail form. The green card is then returned to the sender. This allows the sender to have a copy of the recipient's signature verifying that the item was delivered to them. It also shows the date upon which it was delivered.
— Electronic Return Receipt
In recent years, the electronic return receipt service has become more popular. It is similar to the standard return receipt. However, upon signing the green card, the postal worker who delivered the item will turn the receipt into a PDF document. This document will then be emailed to the sender. This provides a real-time delivery receipt for your mail item. You will know right away when the item is delivered, and this option is now cheaper than the standard return receipt as well.
— Restricted Delivery
This type of service is common with legal documents, health care records, valuable items, or other mail delivery that should only be handed to the intended recipient. With Restricted Delivery service, the mail carrier is only allowed to deliver the mail to the addressee. No one else at the address, not even a family member, can sign for the item. Since this is the strictest type of mail when it comes to certified letters, it is usually reserved for extremely confidential materials.
— Return Receipt After Mailing
So, what happens if you send certified mail and later decide that you need a return receipt? You're in luck! Since the postal service keeps great records of all their certified mail, you can request a return receipt up to two years after the mailing. Even if you don't request a green card on your mail label, the post office still requires a signature for certified mail. This signature is kept on file for two years, and you can request a copy of it during this period. This service will cost you a little more since the post office must locate the record in their files. More than likely, you will only be able to receive an electronic version of the receipt at that point.
Cost Of Sending Certified Mail
First, remember that the cost of certified mail is in addition to the cost of the postage you pay to send the item. You can use either first-class mail or Priority mail to send certified mail. Certified mail costs $3.75 plus the postage for your letter or package. If you want to add a return receipt, that will cost you a little more. A standard return receipt will cost $3.05. If you opt for the electronic return receipt, that will only cost you $1.85. If you have any questions about the cost of this USPS service, the postal workers at your local post office can answer them for you.
Certified Mail VS Registered Mail: What's The Difference?
It might seem that certified mail is pretty secure, and that is true. But how does certified mail compare to registered mail? Registered mail is even more strict and secure. Certified mail comes with a unique tracking number and proof of mailing; however, it travels with regular mail. Registered mail, on the other hand, does not travel with regular mail. It is kept separate, and there are records made each time registered mail changes hands from place to place. Registered mail cannot be left unattended, and when it is, it must be kept in a locker or locked box.
Since it is handled separately, registered mail tends to be a little slower than certified mail. However, registered mail is more expensive. The higher pricing is due to the special handling that the mail receives. For this reason, registered mail can be insured for up to $25,000. This is a big difference from certified mail, and it is a big reason why registered mail is used to send valuables and other essential documents.
The Bottom Line
Certified mail is used mainly for legal and business documents because of the proof of mailing that comes along with it. In addition, return receipt service provides the sender with proof of delivery. It shows the recipient's signature and the date of receipt. In some cases, these items might be used in legal proceedings to indicate that correspondence was sent to a particular person. Certified mail costs about $4, in addition to the regular postage you must pay to send the letter.
Frequently Asked Questions
Does certified mail require a signature?
Yes, certified mail requires a signature. While there are some other mail options that require a signature, certified mail is the most common. The recipient must sign the return receipt attached to the mail envelope so that it can be returned to the sender. Even though it requires a signature, certified mail can be sent to a PO box. Upon arrival, the postal worker will place a note into the PO box informing the recipient that they need to pick up the mail at the postal counter.
Is certified mail worth it?
If you need the features provided by certified mail, then it is worth it. In some cases, you might be required to send certain documents by certified mail. This could be due to legal reasons when you need to provide proof of delivery or attempted delivery. If you simply need to track your package, there is no need to send the item as certified mail. While you can track certified mail, basic package tracking might be all you need. Priority mail includes a basic USPS tracking barcode at no additional charge, so that should meet your needs in that case.
What are the disadvantages of certified mail?
There are a couple of disadvantages to certified mail. First, it is sent with the regular mail. This means that it is not highly secure. Next, it cannot be insured. This is why it is not a good idea to send valuables or highly sensitive documents through certified mail. In that case, registered mail would be a better option. Registered mail can be insured for up to $25,000.