[vc_row][vc_column][vc_column_text]
Does The Post Office Print Label Stickers?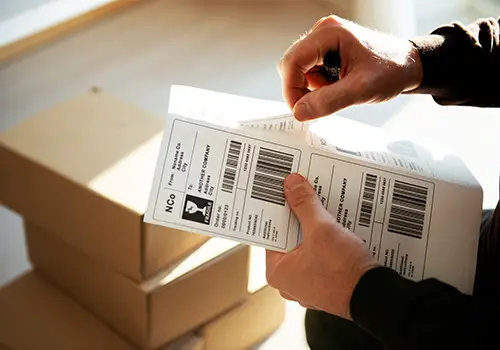 If you're in a rush to get something posted on time, perhaps a birthday present for a relative that you've left to the last minute, then you can often be in a real rush when you're heading to the Post Office.
The most important thing that is on your mind is probably making sure you have remembered the package or letter itself as well as your wallet to pay for the postage.
But there is an important question you've probably forgotten to ask yourself: will the Post Office print labels?
And it may be that you remember about labeling only when you're in the car on the way to the Post Office.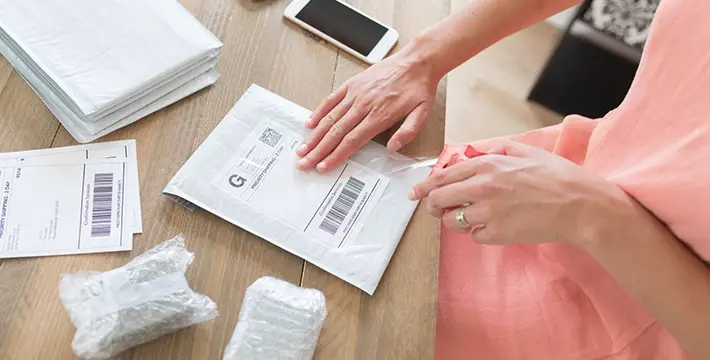 Print Labels from Your Home
Did you know you can print labels from the comfort of your home? Using USPS' Click-N-Ship service you can print labels for the following USPS pay for postage services:
Priority Mail
This gives the user a reliable domestic service at a reasonable price. Delivery takes 1-3 business days depending on the length of the journey across the country your package is taking. Prices start at $7.35 and since this is a flat rate, no postage calculations are needed up to 70 ounces.
Priority Express Mail
This is USPS' fastest domestic service. Overnight delivery is guaranteed or you are entitled to your money back. It is available all year-round and delivers to the vast majority of U.S addresses including P.O. Box addresses. Prices start from around $25.50
Priority Mail International
This is the standard international shipping postal service from USPS. It delivers to over 190 countries and takes 6-8 business days so in practical terms at least one full calendar week. Shipping supplies are available for free.
Prices start from around $25.80. There's also no need to do any weighing or calculating. Instead, there is a flat rate for boxes and envelopes so it just depends on how much you can fit in the box.
Priority Express Mail International
Priority Express Mail International offers date certain delivery. This means you can be assured that your package will arrive on time and if it doesn't you have a money-back guarantee, though only in certain destinations. Delivery is to 190 countries and takes 3-5 business days.
Prices start at $44.00 and free shipping supplies are available. As with Priority Mail, there is a flat box and letter rate: perfect if you're sending your loved ones a treat box of goodies they miss from the States as you can fill it right to the brim without having to worry you've gone overweight.
Global Express Guaranteed
This is USPS' premium international shipping service. It delivers in 1-3 business days and offers overnight shipping to some places in Canada. There is a money back guarantee and other features include tracking and $100 insurance.
There is no flat box or letter rate for this one and postage should be calculated on the USPS' website. The service is carried out by FedEx on USPS' behalf and prices start at $67.80.
To encourage you to print your labels from home USPS offers free delivery confirmation to every label printed for Priority Mail delivery and free signature proof of delivery for labels printed out at home that are for Express Mail shipments.
Remember, importantly, there is no fee for using the Click-N-Ship service or USPS' mail and print services from your home.
It is also worth considering PC Postage or USPS pay postage online if you are sending lots of packages on a frequent basis. This is software that is approved by USPS. It allows you to purchase your postage in advance over the internet. Afterward, you can then print out a sticker to place on your package using your usual computer.
After this, you then simply take your domestic parcels and letters to a mailbox in your local neighborhood or area. This option is only available for Express and Priority Mail and not for Global Express Guaranteed or for any of the other international shipping options.
Also, remember you can't use a letterbox if your package weighs more than 13 ounces. Instead, these can be picked up by a mail carrier.
The more premium postal services might be a better option for those looking to print their labels from home and get their post delivered in faster times, particularly since USPS stopped Saturday services a few years ago.
Use a Library Card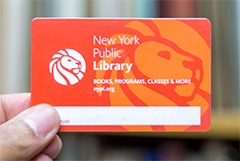 As the saying goes, when in doubt use your library card! Or in this case, if you don't have a printer of your own be sure to take a trip to your own local library. Here you will be able to use a library computer to print out your postage forms for a small fee.
If you don't already have a library card find out what you need to register in your local state and town and make it clear you also wish to use the computer facilities. After registration, you should then be given a username and password to log on to the computer.
Remember these slots can sometimes get busy, particularly at weekends. So if you know you are going to need to send a parcel, be sure to book your slot in advance, perhaps leaving earlier on your way to the post office so that you have time for a quick drop-off.
Handwrite Your Labels
If you are in a rush you can handwrite your labels at the Post Office and then have them stuck on to your package. The Post Office does not have the ability to print labels so make sure your handwriting is neat and easy to read so it doesn't get lost along the way.
You will need to pay for the package at the Post Office and you will probably pay more than you do online.
You can use an online calculator to find out how much you owe in postage or stamps and you can also use our handy guide to find out how many stamps you should use on a letter or package.
USPS Kiosks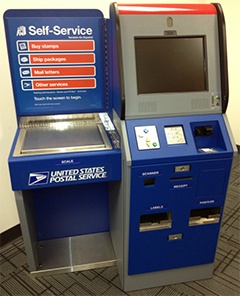 Another way you can print labels is by using USPS Kiosks. These are located in the lobbies of over 2,883 post office locations across the country. There are no extra charges to use them and most are accessible 24/7.
The USPS website can help you track down the nearest machine to you by using your GPS data from your phone or computer or by simply inputting your zip code.
The machines look almost like photo booths for passport photos but are very simple to use. You can perform all the functions that you could on your computer at home. This includes doing a search for a zip code, a useful tool if you aren't 100% sure or need to double check, buying stamps and even renewing your post office box subscription.
You can also weigh letters and parcels up to 70 pounds, buy actual postage including premium services like priority mail express and purchase additional services to ensure you can keep track of your post whilst it's in the air and when it arrives.
Delivery confirmation, signature confirmation, insurance, certified post, return receipt and much more are all available to buy.
Many people have wondered whether the USPS is in decline because of unfair competition from Amazon and other big corporations. President Trump accused Amazon of treating USPS like it was their personal delivery boy. But no one can argue that USPS doesn't make it easy to use their services with all of these options available to users.
Will the Post Office Print Labels?
The United States Post Office is under increasing pressure to perform and wants your service. Right now it is clear they are struggling, though many believe being ahead of the game in terms of technological advances can help the post office's future. Perhaps 3D printing can boost its figures.
But until that moment, customers of USPS have the monopoly and its in the best interests to make tasks like printing labels as easy as possible. Not only can you print labels for their most premium postage services from the comfort of your own home, but you can also visit a library or print labels from one of the many thousands of kiosks around the country.
Alternatively, you can hand-write labels at branches of the USPS itself, though you can't actually print labels here. So if you're worried about having unreadable handwriting this might not be the best option.
So will the Post Office print labels? No, the actual Post Office building won't but they've made it as easy as possible for you to do it yourself.
If you need help tracking a package or finding your nearest post office be sure to visit our website today.
[/vc_column_text][/vc_column][/vc_row]