[vc_row][vc_column][vc_column_text]
How To Schedule A USPS Pickup // [Full Guide]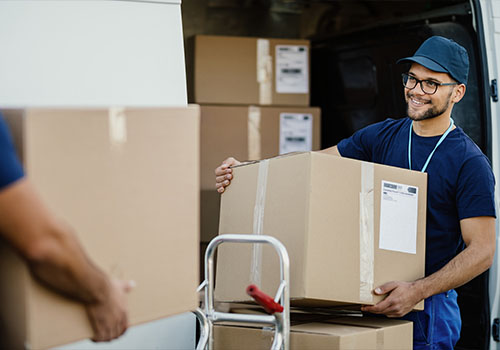 Did you know that the reason many people cancel a transaction at checkout is that the shipping charge is too high? In a recent survey, 63 percent of participants listed shipping costs as the reason they canceled their purchase.
The United States Post Office (USPS) remains one of the most affordable ways to ship your packages, whether you are a small business or shipping personal items to family and friends.
In addition, you can save time by printing your postal labels at home. Waiting in line at the Post Office can be a thing of the past. To make your life even easier, the USPS offers a free pickup service.
That's right. You don't have to go to the Post Office at all. The Post Office comes to you. This article explains how to take advantage of USPS package pickup and how you can schedule pickups.
USPS Package Pickup
If you don't have time to drop your packages off at your local Post Office, you can schedule a free package pickup.
By scheduling ahead of time, your postal carrier can pick up your shipment from your doorstep during your regular mail delivery time. You can schedule a single pickup or a reoccurring pickup if you know you'll be shipping frequently.
Printing Your Labels Online
Of course, you'll have to print your own postage label and have the package ready to go. If you haven't done that before, rest assured it's an easy process. All you need in a computer and a printer (we'll discuss this in detail further down).
If you own a business and buy your postage through another site like PayPal or eBay, you can still schedule a Package Pickup for packages shipping through the USPS.
Your seller software may already have this feature built in. If that's the case, you can purchase your postage labels and schedule pickup all at the same time.
If you don't have that option, it's just one extra step to log on to your USPS account and schedule from there.
Where to Schedule Your Pickup
To schedule your package pickup, go to the USPS website to schedule a pickup and submit your request online. Whether you wish to schedule a single shipment or several over time, you can schedule pickups up to three months the current date.
If you use other shipping services like ShippingEasy, you may have the same option as eBay or PayPal. Meaning, you can to print your USPS labels and schedule the pickup from that application, rather than going to separate websites.
Check your application's Help section if you aren't sure.
Requirements for Pickup Service
To qualify for USPS package pickup, at least one of the packages in your order must be a First-Class Package Service-Commercial™ item, Priority Mail or Priority Mail Express.
Note that First Class letters do not apply, only First Class packages. The commercial rate for First Class packages applies for packages up to 16 ounces. The non-commercial rate only goes up to 13 ounces.
Any return items or international service qualifies as well. There is no maximum for the number of packages you can leave for Package Pickup.
How to Schedule a USPS Package Pickup
You have two options for scheduling Package Pickup. One is the free pickup service. The other is Pickup On Demand, for which you will pay a fee.
Free Pickup Service
The USPS free package pickup service is for the next regular delivery day, or a future date you designate with the time being the same, which is your carrier's regular delivery time.
Pickup On Demand
For the Pickup On Demand option, the Post Office will pick up your packages within two hours of a time you select. A fee applies here, though it's a single pickup fee. There's no extra charge for multiple packages.
Schedule a Pickup Page
To schedule, go to the USPS website's Schedule a Package Pickup page.
Note: If you haven't already created a user account with the USPS, you'll need to do that first and sign in.
Step 1. Entering Your Address
Fill in your name and address. If your chosen address is a commercial business, check the box next to "This is a business address." The form fields change so you can fill in your business name, etc.
Select the "Check Availability" button. Pickup service is available in most cases. On the next screen, select the button to indicate whether you have a dog. Your carrier will pick up your packages regardless.
Step 2. Add Location Details
Select the location where you will be leaving your packages for the carrier. You can add any notes or special instructions in the comment box below.
Step 3. Select the Time
Select the time you want your packages picked up. Your choices are for pickup at the regular delivery time (free) or schedule a specific pickup time. This is a paid service.
It costs $23 in most zip codes. Next, choose the day you want your carrier to pick up your package(s).
Step 4. Enter Package Details
Fill in the fields to let the Post Office know how many packages you have and what shipment type they are. There's a field for Priority Mail, First Class Package, International, and others.
In the Summary section, enter an approximate weight for all your packages. Read the terms of agreement statement and check the box. Then, just select the Schedule a Pickup button, and you're done.
Tips for Scheduling Your USPS Pickup
Completing the steps for scheduling a pickup are straightforward. Though, here are some extra tips for scheduling that come in handy if you plan to use this service often.
Schedule Before Midnight
Be sure to schedule your pickup before 12:00 AM the day you want the Post Office to pick up your times. You'll also need to have a reasonable estimate of the combined weight of your packages.
That's easy enough to calculate using the weights listed on the individual labels.
Changing or Cancelling Your Request
If you need to go back and make changes to your order, do so before 2:00 AM CST. This applies even if you are in a different time zone. You will need your Carrier Pickup Confirmation Number and your address.
If you don't make your changes before 2:00 AM, you cannot change or cancel your request online. If this happens, leave a written notification at the package location so that your postal carrier knows that you changed your request.
Maximize the Convenience of Pickup Scheduling
Package Pickup is a wonderful convenience. If you ship often, you'll benefit from the following tips for packaging and printing labels from home.
Preorder Mailing Supplies
If you are shipping packages often, have some mailing supplies on hand. The USPS sells shipping supplies and also provides select Priority Mail boxes and envelopes for free.
Pick a few up the next time you stop in at your local Post Office. You can also order them online from the USPS web site.
Invest in a Scale
If you mail packages frequently, a scale comes in handy to get your weights correct. If you ship smaller packages, a digital kitchen scale will do. The USPS sells postal scales, which are more exact and can handle larger packages.
If your weight is inaccurate, the Post Office may return your package. Or, the Post Office will deliver it postage due to the recipient. That makes for unhappy customers.
Buy a Label Printer
If you ship a lot, a label printer cuts down on the cost associated with printing your own labels. Most label printers use heat to print instead of ink. The labels are less expensive than printer paper.
They are also self-adhesive. So, no more cutting out labels and taping them to your packages. Dymo and Rollo are two of the many companies that sell label printers.
Understand Shipping Rates and Box Sizes
The Post Office calculates shipping rates by weight and dimension. Using the scale takes care of the weight. Though, using the correct box size means placing your item in the smallest box possible.
This cuts down on your need to add packing material. Speaking of packing material, choose airy packing material whenever you can.
Further, smaller dimensions lower your shipping costs as well. Oversized or oddly-sized boxes can inflate your shipping costs. Finally, the box should be as lightweight as possible to hold the item securely.
You're already saving time by scheduling a USPS pickup. Some of these tips streamline the process even more for you.
Take Advantage of the Convenience
USPS Package Pickup is one of the USPS's most convenient services. If you need post office supplies, find a Post Office near you and pick some up. You'll be all set the next time you have a package to mail, with no need to even leave the house.[/vc_column_text][/vc_column][/vc_row]