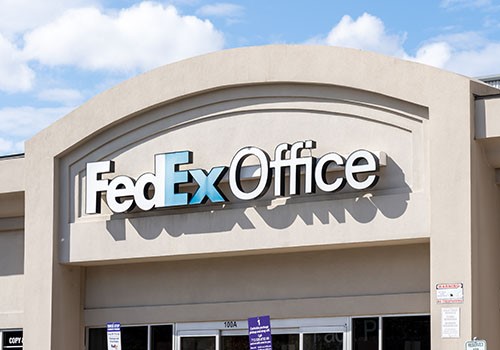 Most people intently watch their FedEx tracking number as their package makes its way to their home. You typically want that package to arrive as quickly as possible. Most packages can be left on the front porch or by the garage door if you're not home when the delivery occurs. However, what happens if a signature is required for your FedEx package and you're not going to be at home? Perhaps the item is extremely valuable, and you don't want the package to be left on the porch. This is when you can take advantage of the FedEx Hold At Location service. So, just what is this service, and how does it work? Keep reading as we give you all the details.
What Does FedEx 'Hold At Location' Mean?
Hold At Location (FedEx HAL) means that, instead of being delivered to your home, your FedEx package will be held at a FedEx location until you can pick it up. The exact location where it is held depends on the available options in your specific area. It might be a FedEx office or even a participating retailer. The request can be made either before the shipment or even after the package is in transit.
Once the package arrives at the FedEx location, FedEx will notify you that the package has arrived. You will have seven days to pick up the package. If you fail to do so, the package will be returned to the sender. When you arrive to get your package, you will need photo identification and your tracking number. This allows FedEx to verify that the proper person is picking up the item. The address on your ID will also need to match the delivery address on the shipping label. If it doesn't, you'll need an alternative form of ID. Preventing package theft is a big benefit of the Hold For Pickup service, so FedEx must ensure that the correct person is getting their package. In some cases, an adult signature is also required for package pickup – especially if the package was shipped with a "signature required" service.
Where Does FedEx Hold My Package?
So, what are the available pickup locations for packages? You might think that the only option is a local FedEx office. However, that is not the case! There are many other secure locations that FedEx can use as a pickup location. In addition to FedEx locations, there are many participating retailers who will hold FedEx packages for pickup. Some of these retailers have FedEx counters inside, while others do not. Here is a list of just a few of the places where you might be able to have your FedEx package held.
Participating Walgreens locations

Participating Kroger, Albertsons, and other grocery chains

Independently-owned FedEx authorized Ship Centers

Wal-Mart locations with FedEx offices inside
If you sent your item using FedEx SmartPost, then your package might also be held at the USPS retail counter. Remember that this shipping option allows USPS to complete the final delivery of your package. For this reason, USPS can deliver it to a PO box or hold it at the counter for pickup.
How To Request A FedEx Package Hold
Requesting a package hold is easy. First, you can request the hold before the package ships. Even if you are printing your own shipping labels through FedEx.com, you can still select this service. The address on the shipping label will then be shown as the address of the hold location; however, the recipient's name will still appear as normal. The package will be delivered to the hold location, and the recipient will be notified by phone. The recipient will also be able to use the tracking number to get status updates to determine when the package has arrived at the hold location.
If the package has already shipped, it may not be too late to request this service. You can head over to the FedEx tracking page and enter your tracking number. From there, select Manage Delivery and then Hold At Location. You will then get a list of available locations from which you can select the location option where you want your package held. Once it arrives, you'll get a notification via text, phone call, or email. You can also request this service through your FedEx Delivery Manager account or by calling 1.800.GoFedEx. Packages sent using both FedEx Ground and FedEx Express are eligible for the Hold At Location service.
Reasons To Request A Shipment Hold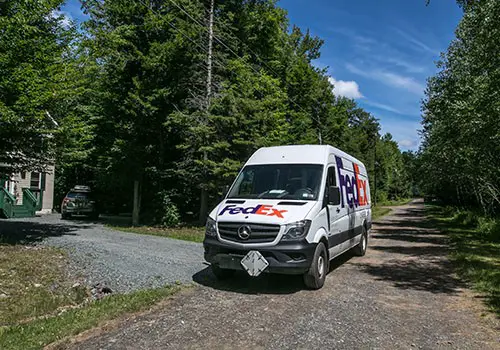 So, why would you want to request this service anyway? Why not just have the package delivered to your home and left on the doorstep? Sometimes, this option is fine. However, there are a few occasions where this is not the best decision. Here are some of the most common reasons to use the Hold At Location service.
— Delivery Schedule Conflicts
One of the most common reasons for requesting a FedEx hold is because you have a conflict with the delivery time. Perhaps you expected to be home when the package arrived, but now your schedule has changed. This is even more of an issue if the package requires a signature. While FedEx will still make a delivery attempt and leave a door tag, a FedEx delivery exception can occur if you are not home. Instead of waiting until the next day for a second delivery attempt, the hold option can allow you to get your package the same day. This is a great delivery option if your schedule does not allow you to be at home on the scheduled delivery date.
— Decrease Risk Of Theft
Porch pirates are becoming more and more prevalent in today's world of eCommerce. It is not at all uncommon to have Amazon packages stolen from your porch. Nobody wants their package stolen, and having your package held at FedEx is one way that you can prevent this type of theft. Theft is always a possibility with FedEx home delivery when your package is left on your porch. You may attempt to deter theft by installing home security devices or requesting your package be left at a back door. However, having it held at a secure location like a FedEx office is likely your best option.
— Previous Delivery Issues
Some neighborhoods have confusing street numbering or names. This can lead to delivery problems and lost packages. So, if you have had previous issues with your home delivery service, then requesting a FedEx hold is likely a good idea. Otherwise, you might have your FedEx package not delivered properly. Having it held can help ensure that your package makes it to you without getting lost. It can also help keep your shipment on time and avoid lengthy re-routing of your package.
What Is FedEx Hold For Pickup?
FedEx Hold For Pickup is essentially the same as the FedEx Hold At Location service. You may hear these terms used interchangeably. You could even hear it called a FedEx vacation hold. Likewise, you might hear one term used if the service is requested before shipping, while the other term is used when the service is requested after the package has shipped. You typically have until midnight the day before delivery to request this service. As long as you request it before the deadline, it should be available for pickup the next day. Once the package is on the FedEx vehicle for delivery, it is too late to request the hold.
How Long FedEx Will Hold A Package?
Your package will be held at the FedEx location for up to seven days. Note that this is seven calendar days and not seven business days. If you have not picked up the package before the expiration of this time, then the package will be returned to the shipper. So, make sure that you will be able to get your package in time before it is returned. While most locations have fairly wide business hours, you cannot pick up your package 24/7. You will need to pick it up during the business hours of the location where the package is being held.
The Bottom Line
If you have a FedEx package on the way and a scheduling conflict arises with the delivery date, don't worry about it! You can take advantage of the FedEx Hold At Location service and have FedEx hold the package for you at one of their secure locations. This will ensure that your package stays safe and is handed over only to the intended recipient. Many people use this service when they have scheduling conflicts or when they have had theft or delivery issues in the past. You can request the service even after your package is in transit – sometimes all the way up until midnight the day before delivery!
Frequently Asked Questions
Can I call FedEx to hold my package?
Yes! You can call customer support at 1.800.GoFedEx to have them hold your package. You will need to provide the tracking number and possibly a couple of other pieces of identifying information. Your request can also be made online through the FedEx tracking page or your Delivery Manager account. FedEx makes it easy to request this service so that you can have safe and efficient delivery of your items.
How do I get my package from a FedEx location?
All you need to do is arrive at the location during business hours and present photo identification. You might only need your tracking number in some cases. The address on your ID will need to match the shipping address. If it doesn't, you'll need to provide another form of identity verification like a utility bill or mortgage statement that shows the correct delivery address. This is for the safety and security of your package delivery.
What is the cost of FedEx holding at location?
There is no additional cost for this service! This service is available with all FedEx Ground and FedEx Express shipments. FedEx provides this service as an additional feature of their shipping service. Since many people take advantage of this service, it can sometimes give them a competitive advantage over other carriers who may not offer a similar service.
What are the benefits of holding at a FedEx location?
Holding your package at a FedEx location has many benefits. The first is the reduction of theft. Porch pirates will not be able to steal your package from the FedEx location. Next, you can ensure that your package will be delivered properly. Sometimes, residential deliveries might get placed at the wrong house. However, if your package is held at the FedEx office, then the chances of an improper delivery are very small.
Does FedEx charge to hold at location?
No, there is no charge to have FedEx hold your package at their location. This service is included in your normal shipping costs when you use FedEx Ground or FedEx Express service. This feature helps to set FedEx apart from other carriers and gives them a competitive advantage over those carriers who do not offer a similar service. This feature causes many customers to select FedEx for their shipping needs.