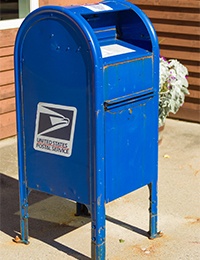 A blue collection box, which is provided by the United States Postal Service (USPS), is a physical box in which the public can deposit outgoing mail to be collected by the USPS. These collection boxes are blue, metal, and stand approximately three feet tall. They're easy to spot by their curved top and they have a pivoting mail drawer with a pull handle that opens up to approximately 14 inches wide. The other side has a mail slot for letters and thin envelopes.
These collection boxes can be found on corners, in shopping centers, outside business and even outside post offices. Postal employees empty the collection boxes, so you don't have to worry about your mail being stolen.
What Can You Mail From a Blue Collection Box?
All mail that weighs less than 13 ounces and has proper postage stamps on it can be mailed from the collection boxes. If it weighs more than 13 ounces and has postage stamps on it, you should take it to your nearest Post Office and mail it from the front counter. If you put it in the collection box, it will be returned to you. If your letter is over 13 ounces, but has prepaid mailing labels on it, as long as it fits in the collection box, you can mail it. The size limit is about 10" x 8" x 4".
What is the Cost to Mail Items?
The cost of postage and how many stamps you need to use depends on the weight of the item and the mail delivery type. Most of the mail sent through a collection box is First Class Mail. Almost other types of mail must go through the Post Office because you purchase it at the Post Office counter. The cost of postage does differ depending if it's stamped or metered. Metered mail does cost a little less.
Typically, postcards, letters, large envelopes and small packages are mailed through First Class Mail. The cost varies from $0.50 to $1.13 for stamped letters. Packages cost from $3.50 to $5.50. You should always be sure that you have the right amount of postage for your package, or it will be returned to you.